Fall 2005 Newsletter
For all veterans, relatives and friends of the
89th INFANTRY DIVISION
WORLD WAR II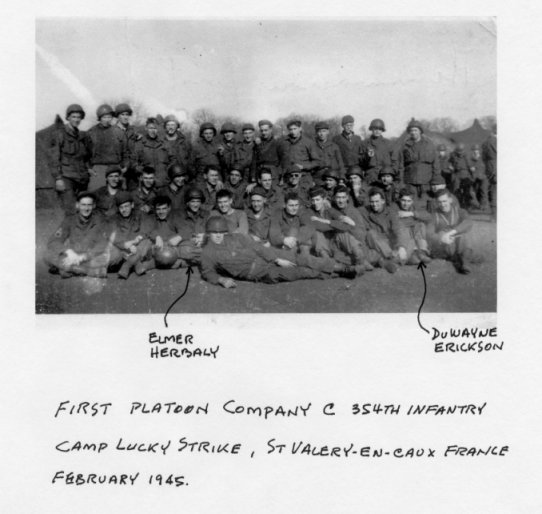 First Platoon, Company C




Table of Contents: Click on the Link Below to Go To That Section:
Announcements and Editor's Notes
Website Developments
Taps
Letters and Exchanges



Return to top

Announcements, Editor's Notes and Website Developments

Editor's Notes

Dear 89th Division Vets, Family and Friends:

Mark and I are very grateful for the generous endowment from the Society which will help us continue the operation of the 89th Division website. When Mark and I started this website in 1998 we did not foresee the extent to which the story of the 89th would be of interest to so many beyond the Society.

Each day brings new emails from sons, daughters, grandchildren and other relatives who had a relative in the Division. We are also increasingly hearing from those who you liberated, fought against and passed by during your time in Europe.

Mark has promised to continue to not only maintain the website, but to grow it over the future. We have a great deal of information that has not been publishes online. Mostly stories and histories from the years of TRW magazines. Additionally, we have many photographs sent to us that will be put online. We have a few plays written by Pulitzer-prize winner and 89th vet Frank Gilroy. All this will keep Mark busy for many years and should double or triple the amount of information already on the website.

In addition, Mark will of course continue to answer questions from researchers, family, etc. Sadly, this becomes more and more difficult for him and more of us 89ers are unable to help.

Mark is planning to move to France in 2006 and live there for the foreseeable future as his wife is a native of Grenoble. The beauty of the Internet is that he will be able to continue the work of the website. Additionally, Mark plans to conduct some more extensive historical and photographic research of the 89th Division, especially where the division fought and lived in 1945.

We would like to make one more request to 89th Veterans and their families. Please share with us any remaining stories and photographs that you have about your time in the 89th Division. Currently, we have a backlog of at least 3-4 years of unpublished histories, stories and pictures from old TRWs. However, when these accounts are published, there will be no more first-hand accounts of your experiences.

Stories can be sent via Word, or simply Post mailed if they are not yet in electronic format. Photographs can be scanned and emailed, or Post mailed to Mark and will be returned to you (obviously, we prefer all submission to be emailed). Please contact Mark at markkitchell@yahoo.com, phone him at 202-265-9411 for more information. Of course, any offers of web design help or financial contributions are always welcome. I am happy to report that the www.89infdivww2.org website will remain as one of the historical tributes to our service well into the 21st century.

We are most grateful for the significant funding provided by the Society of the 89th Division: WWII, which will help pay the day to day costs of the website for many years to come. Mark and I would like to repeat out heartfelt gratitude for the encouragement that we have received from so many of you over the years. The emails, conversations at reunions, and letters of support make this effort worthwhile.

Roll On 89th Division

Raymond E Kitchell
Private First Class, 340th Field Artillery
July 2005 Washington, DC






Request for Interviews: Documentary Film About the 89th

The following important announcement comes from Alexander Murillo, a young film maker from Los Angles, CA. He is planning to make a documentary about the 89th Infantry, specifically the liberation of Ohrdruf. His plan is outlined here. Please contact him if you can be interviewed.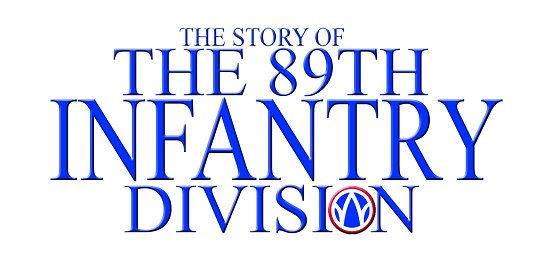 The Story of the 89th Infantry Division is a non-profit documentary about the men who fought and served with the 89th Infantry during WWII. This documentary will serve not just as a teaching tool to this generation but as a testimonial from the men who fought against the greatest evil of our history so that generations will learn and never forget.

As a young film maker, I hope to record as many stories as I can to accomplish an ambitious vision about documenting the most important subject of our history. I ask for volunteers who would wish to tell their story. The interview will last however long one chooses and would include questions about ones childhood; when and where you were born followed by your experience starting out in the military and eventually to war. The interview will be held at the location of your choosing.

As a gift of my appreciation, I will supply a copy of the entire interview so that your story can be passed onto generations of your family so they will always understand and appreciate your sacrifice for them. I ask for your help in being part of this important documentary.

I thank you.

Very Sincerely,

Alexander Murillo

ABOUT ME:

My Name is Alexander Murillo; I am a film student at The Art Institute of Los Angeles California. I was born and raised in a military family traveling all over the west coast. I have family and friends to who serve in the armed forces and greatly respect the sacrifices given by them in the name of freedom. For the past year I have been working at The Shoah Visual History Foundation founded by Steven Spielberg. The Shoah Foundation has collected over 50,000 testimonies from holocaust survivors all around the world. As a young film maker, I myself have collected over a dozen testimonies from holocaust survivors, POW's and children of war. I believe in documenting and preserving these stories in hopes for future generations to learn and to never forget the sacrifices given from our countries greatest generation.

CONTACT:

Alexander Murillo
alexander210@cox.net

ADDITIONAL INFORMATION:

The time and place will be chosen by interviewee; we will travel to any location in and around the Los Angeles, San Diego area. Please call two to three weeks prior to your desired date. A location outside these areas is possible but time and location has to be set at least four weeks in advance. We thank you for this opportunity and we very much look forward to this experience with you.


Return to top



Website Developments

I would like to apologize for the long delay in the latest newsletter. This has been a stressful year for the Kitchell family. Sadly my father is suffering from Alzheimer's disease and this year it has taken a turn for the worse. My father has unfortunately not been able to assist me in preparing this newsletter. However, he remains a great motivation for my work.

If you have sent me items for the newsletter and they are not in this issue, I have many more letters to include in the next newsletter, which I will publish before Christmas.

We welcome stories, comments, pictures, and questions from all veterans, their families and any other interested parties. It would help us very much if, when emailing us, you include the following background information if available:

1. The veterans full name and 89th unit, e.g., regiment, battalion, company.
2 Any previous exchanges with us on the subject (very important).
3. Whether the vet is still with us. If not, do you wish us to keep his name on our email list, marked "deceased", in care (c/o) of your name and email address?
4. Other relevant background.

Thank you. Co-webmasters

The email list on the website is no longer being maintained and will be taken off the website shortly. We have found spammers take these emails for commercial purposes. If you would like to contact a specific member, please drop me an email.


Question for the Veterans

Dear Mark,

I would like to ask you to put this question of the website :

Mid-April 1945, Task Force Crater was formed to perform a reconnaissance over the Saale River. This Task Force was commanded by Lt.-Col Streeter. I am looking for pictures of him. I wasn't able to find him in the 89th book.

With kind regards,

Patrick
PatrickBrion@hotmail.com


Return to top



Taps

Walter C. Irla, Battery B, 340th Field Artillery: from Darrel Carnell

I have received word from Walter Irla's daughter, Terry Thompson, that her dad passed away in Fall River, Massachusetts on April 29. Walter was chief of the wire section of Battery B, 340th Field Artillery of the 89th Infantry Division.

His obituary read:

Walter C. Irla, 85, of Riverview Towers, 301 Milliken Blvd., Fall River, died Friday, April 29, 2005 at Southpointe Rehabilitation and Skilled Care Center, after a short illness.

He was the husband of the late Hedy Monticolo Irla. They met in Poland during WW II and married in Vienna, Austria.

Born in Fall River, the son of the late Jan and Helena Moskal Irla, he lived in Somerset for many years.

He was employed by the former Gemco International for many years.

An Army veteran of WW II, he served in the 89th. Infantry which overran Ohrdruf, the first Nazi concentration camp liberated by US Troops in Germany, a subcamp of the Buchenwald concentration camp.

He served in the conservation corps many years ago and enjoyed fishing.

Survivors include a son, Richard Irla and his wife Jocelyn of Tiverton; a daughter, Theresa Thomson and her husband Leonard of Swansea; 4 grandchildren, a great-granddaughter, nieces and nephews."

I pass this along for inclusion in Taps.

Darrel Carnell
Battery B


George S. Marchlewicz 89th Division, B Co. 353rd

Reported by Marilyn Owen

It is with deep sadness and sorrow that I, Marilyn Owen, have to report that George S. Marchlewicz B Co 353rd passed away on November 1, 2004, after complications following Cardiac Bypass Surgery.

George was born in Chicago on October 22, 1921, and remained a Chicago native all his life. He was inducted into the Army in October of 1942, and was stationed and trained at Camp Butner and Camp Carson. After serving for over two years in the European Theater of War, George was discharged from the Army on May 7, 1946. He married Harriet Jurczynski a year and a half later on October 25th, 1947 and they were married for 39 wonderful years.

One of his proudest accomplishments in life was his involvement with the Cub Scouts, a service that he performed for over 50 years. For 35 of those years he was a Cub Scout Master and took pride in having helped many boys build skills that they have carried with them through life. He was fortunate to still be connected socially with many of them and even after all those years, they still fondly addressed him as Mr. George, a title of which he was extremely proud.

He worked for 38 years for the Miehle Printing Company in Chicago, a firm that built printing presses. Unfortunately, his dear wife, Harriet, went to her eternal reward only two years after his retirement. During his retirement years, however, he enjoyed life by being active in many different organizations and by traveling, and had the opportunity to travel to many different countries throughout the world. He was an active member for over 60 years in both the American Legion - Lafayette Post #159 and of the Holy Name Society at his parish of St. Hedwig in Chicago. At the time of his death he was Finance Officer of the American Legion Post, treasurer of the Holy Name Society, and was on the Finance Council of his parish church. He served his church throughout his life. He was an usher for most of his adult life and in recent years, he became a Eucharistic Minister and assisted at Funeral Masses at the Parish.

George was a kind, patient, goodhearted, honorable and compassionate man. He maintained a positive attitude throughout his life even in the face of difficult challenges. He was friendly and welcoming to everyone he met. Whenever you saw George, he always had a smile on his face, a characteristic that most people when describing George will mention first.

He was extremely proud of his association with the 89th and enjoyed immensely being reconnected with his comrades and their families at all the reunions he attended. While he had only found out about the 89th reunions in 1998, he attended everyone since that year including the mini reunion held in Colorado Springs in 2001, a reunion where he was reunited with seven of his former war buddies.

George was fortunate to have attended the last 89th reunion in Washington, D. C. in 2004, and to see the World War II Memorial.

He will be greatly and sadly missed by many, especially by his dearest friend, Marilyn Owen, who was so extremely fortunate to have had this wonderful and caring person in her life for the last 15 years.


Return to top



Letters and Exchanges

[If you sent a message intended for publication in our Newletters but does not appear in the next issue, please inform me and we will check it out.]

 

Tribute to Du Wanye Erickson

From Blair Anerderson

Dear Sir,

My name is SSgt Blair J. Anderson, USAF, and I'm currently stationed at RAF Digby, United Kingdom. I'm planning on making a trip to Luxembourg to the American Cemetery there to commemorate the sacrifice by -- and pay my family's respects for -- my late grandfather's brother, Du Wayne A. Erickson, who died while crossing the Rhine on the 26th of March, 1945. It will be the 60th anniversary of his death.

I got in touch with Du Wayne's sole surviving sibling, his younger brother Don, but it seems the both of us are lacking in specifics of his death. We've heard that he was either shelled or machine-gunned during the crossing, but I was wondering if maybe someone there had more information so we could shed some light on how he died. His remains were interred in the cemetery there because they couldn't determine if in fact it was him due to the wounds he received. Also, the ABMC Web site doesn't give his specific outfit; it just gives his regiment and division (354th IR, 89th ID). After reading the unit history on your Web site, it seems he was probably part of 2nd Bn. The issue at hand is that I would like to know the nature of his actions so I could better honor him as I visit his grave for the first time on the 26th. I'm discussing the possible ways I can also pay my respects with my squadron detachment commander. I know this is short notice, too, so please don't feel obligated to get me information before I leave; it would just be nice to have for my family.

If you do have a response, please send it to: eyrie172@hotmail.com or blair.anderson1@mildenhall.af.mil. I can be reached at either.
And much-belated thanks for your service to our country, sir.

With the utmost respect,
---Blair Anderson

From Mark Kitchell

Blair:

Thanks for your email. I am actually the son of the 89th veteran. My father and I put this website together with the assistance of the 89th Division Society.

Generally for requests like yours I place it in our newsletter, which comes out approximately every 2-3 months. However, due to the deadline of your circumstances I will send a general email out to my list.

However, do not get your hopes up too much, as you know many of these men have passed on and the division was 10,000 men+.

Mark

From Elmer Herbaly

Mark:

Let me put the matter of DuWayne Erickson to rest. DuWayne was in my squad, first squat first platoon Company C 354th Infantry. On March 26th, 1945 the First Battalion was ordered to cross the Rhine and take the Town of Welmich north of St. Goarshausen where the Second Battalion was having a bad time of it. Company A was already across and C Company was delayed and started to assemble at the River. Parts of the first and second squads crowded into the first boat and started across the river, but in midstream our boat suddenly disappeared from under us and we were tossed into the water. I was fortunate and bobbed up near a boat manned by the engineers and with Dick Hous of the second squad were dumped of at the first aid station to dry out and get new equipment. Later that day we hitched a ride to where our company had assembled for the night. We did not know what happened after we were rescued, but later it became apparent that 12 men did not come back that evening, DuWayne was among the missing. In 1990 the 89th Division had a tour of our campaign in Europe and made a visit to Ham American Cemetery and I found the graves of seven of our comrade, and Dwayne's grave was among them. On the great wall of the missing in action two more of our comrades were listed. I have picture our platoon and Dwayne is on it. Herbaly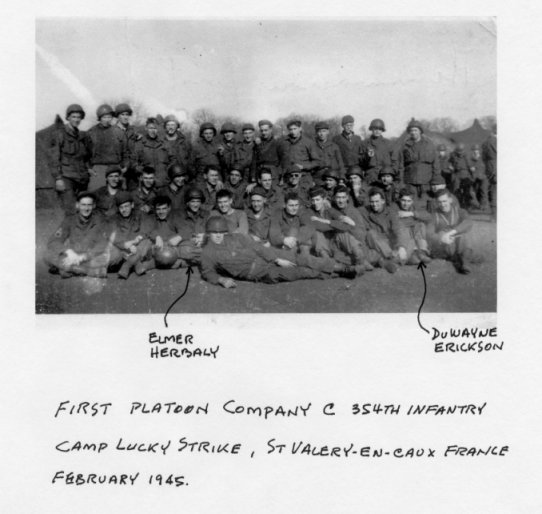 First Platoon, Company C




From Charles Kitching

I was in A Co,354th-1st Batallion on that day,and we crossed about 2.00pm in small boats.We suffered many casualties as theGermans were on a large hill firing 20mm shells at us.The skyline on our side was lit up as they had set a fire to a barn on our side of the river--we were sitting ducks.It was a stupid movement on the part of our leaders at the time.

Up river H Co. was another Co. that suffered casualties.For some reason the first wave was in small boats. The area was St.Goar Hausen,but A co was in Waldheim,A small peaceful village. near Lorelies rock.

In summary,I would suspect he was killed by machine gun fire as we were clobbered until we got on shore in back of the defense along the river. Two names I remember that wee killed are Patrick Feehan and Marion Foust.
Hope this is of some help to you.
Charles Kitching
818 Fairay Dr.
New Smyrna Bch.,FL
32168

From Oscar Friedensohn

I don't know anything about your grandfather's brother, but I did cross the Rhine on March 26th 1945, as a member of C Company of the 168th Combat Engineers. Our mission that night was to take across the 2nd Battalion of the 354th Infantry. 11 of the 16 soldiers in my boat were killed, ten of them were infantrymen. He could have been one of those.

I have written a complete account of that night which is being published this very week in the April '05 issue of World War II Magazine.,It is a lengthy personal memoir. A prior historical account that I wrote was published in the April,2000, issue of ARMY Magazine.

I visited the American Cemetery in Hamm, Luxembourg, in October of 2003. and saw many graves of the 354th Infantrymen and the 168th Combat Engineers.

If I can be of any more help, please feel free to e-mail me.
Oscar & Adele Friedensohn

From Robert Woodrum

My name is Robert Woodrum (Bob) and I was present on March 26th, 1945 when your great uncle was killed in action. I did not know him personally, but I thought you would like to hear about some of the thing that occurred that fateful day. I was present as part of a "forward observer team" (Artillery) and we were called upon to call for, and direct artillery fire as needed for the infantry. We were never connected with any specific Infantry, unit but we rotated to various "combat teams and were rarely out of the front line action, so we had little chance to make acquaintance or become friends with our "partners in battle", for want of a better title.

On the day we are speaking of, March 26th, 1945, the most traumatic day of my long life, and a day I will never forget, we started out in the wee hours om our long trek, going eastward down a narrow road to the Rhine river just west of a seemingly small town called St. Goar. We must have started out around 2:00 am because it was still quit dark when our column was halted and we were told to "take cover", but to keep our relative position in line. We were still not completely down the hill and still not in view of the river. We could hear small arms fire ahead and in a short time, we saw a huge artillery barrage across the river at St. Goarhausen. It was mostly phosphorus shells which lit up the sky like daytime. After 30 minutes or so, things quieted down and we continued our descent to the riverbank and some of our troops began loading into assault craft. Few of these craft got very far across without being fired upon, and the the fire got intense at our "loading site", and we had to take cover again, although we were now in broad daylight, and there wasn't much cover.

By now , some of our troops were across and the firing from 20mm anti-aircraft guns on the far bank was beginning to be silenced and then we could load up and resume our crossing. We lost several men (really boys acting like men) that day and your great uncle may have been among them. When you reach his grave site on the 26th say a special "thank you" and a little prayer for a guy who was there that day.

And thanks to you for listening to an old man who has lots of memories which don't go away.

Thanks again,
T/5 Robert E. Woodrum
"A" Battery, 341st FA Bn.

From Blair Anerderson

Mark, the response I'm getting is absolutely overwhelming. I can't believe the mechanism set in place that has given me this wealth of information in such a short amount of time.

Yes, I will make sure to send any pictures I have of the visit to you, and I'll pass all the information I'm getting on to Du Wayne's brother and the rest of the family.

Again, thank you so much for your efforts. I could never imagine this kind of response.

Wishing you and yours the best,

---Blair

From Blair Anerderson

My God, Mark.... This is so amazing. Again, thanks so much. I (and I speak for my family as well) am simply in awe. This is probably the last picture my family will have ever seen of him alive. And he looks so much like my late grandfather, James (Sheldon) Erickson, who served in the Pacific at that time. Remarkable. Again, I'm passing this on to my family; I'm sure this will find its way into their scrapbooks and photo albums and help shed some much-needed light on Du Wayne's military life. With the best of wishes I remain, ---Blair From Blair Anerderson

Dear Mark, I just wanted to let you and all those in the 89th know that I made it there for the 60th anniversary of my uncle Du Wayne's death. Although somber, it was incredible. It was my first visit to an overseas American cemetery and I was quite taken aback. The heroes buried there.... Some from the Band of Brothers, General Patton, my uncle, and all the others, some of whom didn't even have a name, some of whom had a name but no body.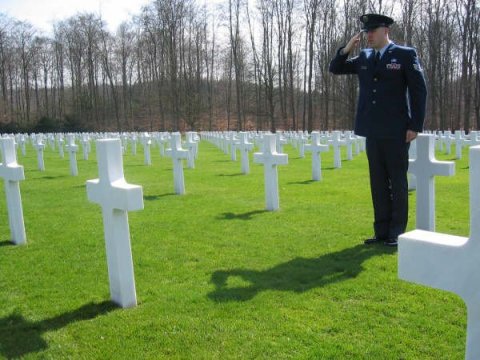 There weren't too many people there that day, the 26th of March, but it was a beautiful, heck, perfect, day after quite a journey. I flew into Hahn-Frankfurt airport on the 24th, then went by bus and train to St. Goar to see where the battle took place. I spoke with English-speaking locals, especially some wonderful people who owned a nice gift shop called the Romantic Rhine Shop right there across the highway from the river, and the older gentleman who ran the store told me all the details about what happened that day. It was fascinating to hear him tell it from the point-of-view of a then-six-year-old. He even brought me outside to show me where the Hitlerjugend fired the '88s, where the Volkssturm were positioned, and especially where the 89th crossed. He also told me how the first English words he'd learned were "Do you have chocolate," and how an American soldier obviously weary from the war still took the time to give him a Hershey's bar. He never forgot that simple gesture, and as a result one of the store managers, a man named Dietmar Proff, made sure to give me one of the chocolate liqueurs he had there at the counter, as well as some 1950's-era postcards of St. Goar. I think I got the better of the deal! But seriously, the people there were very gracious and great people. And, as history has already judged, great were the people of the 89th as well, even during war.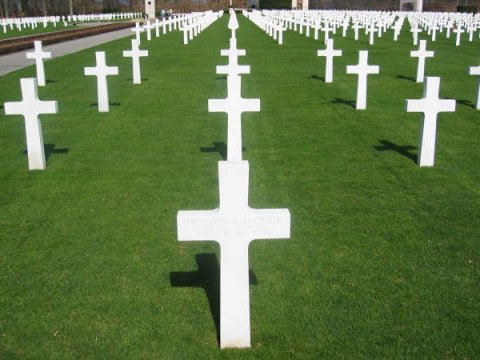 Thanks again to all of you who gave me pictures, input, advice, and even anecdotes on that historic day, the day my great uncle died. I hope I have perhaps somehow done my small part in preserving your large contribution to history. Wishing you all the best of everything, ---SSgt Blair J. Anderson, USAF RAF Digby, United Kingdom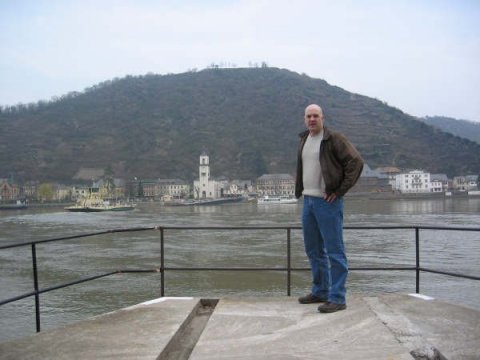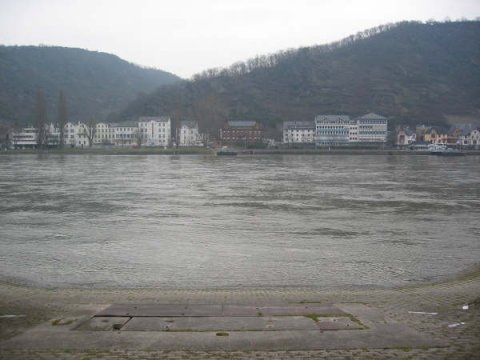 Lest We Forget

Mark:

This letter to the editor appeared in South Florida Sun- Sentinel newspaper Mar 21 2005 as follows:

"LEST WE FORGET"

I was glad to see the U.S. Marines went back to Iwo Jima after 60 years. It helps keep alive our American history.

The raising of our flag on Mount Suribachi symbolized the impending collapse of Japanese aspirations in the Pacific theatre.

Equally symbolic, though not as well known, in Germany, the U.S. Army's 89th Infantry Division was raising the flag over the Rhine River at the Lorelei Rock on Mar 27 ,1945, also 60 years ago.

Lest we forget. Paul Bradley

Sent By: Norman Frankel
B Co. 355th


We Never Forget: Commemoration of the Reimahg

The following article comes from our good friend, Sgt. Patrick Brion of the Belgian Army. Patrick has been a tireless advocate of the role the 89th played in helping liberate this underground factory. He can be reached at PatrickBrion@hotmail.com.

We'll never forget

All throughout Europe, people have been commemorating the liberation and the end of the Second World War. Especially the many allied soldiers who died liberating Europe from 5 years of hardship and suffering, were often during the numerous ceremonies not forgotten.

Since the commemoration last year, we started planning for the 60th anniversary of the liberation of the "REIMAHG" camps. Finally, after all these months of preparation, numerous meetings, many thing to think off and to coordinate, the moment had come.

This years commemoration in Kahla and the neighboring towns was marked by the presence of many people who participated for the first time after such a long time.

We had expected a larger number of visitors, but weren't really able to foresee the actual people who'd come.

People came from again in large numbers from Italy, the Netherlands, Belgium… but even as far as Belarus, like Viktor Pleschkewitsch, who had been working as a 13 year old boy, deported by the Germans to Kahla. But also survivors from Poland, Slovakia came to Kahla, to join the survivors and the liberators.

Last December, I had worked for 1 month around the 60th anniversary of the Battle of the Bulge and I had the honour to meet and work with many American veterans.

Two of them became very good friends. Pat Murphy from the 76th Infantry division and Carl Dalke from the 101st Airborne Division. As we worked very closely together, I also told them about the upcoming commemorations in Kahla and asked them if they considered coming to Kahla. They agreed and things started to get planned.

Regrettably, Pat Murphy had a serious accident, some weeks before coming to Europe and wasn't able to come to Kahla. I also invited the 89th veterans, but due to the long journey ahead, none was able to make the trip. So, the idea that Carl Dalke would be there to represent the American Veterans grew.

Beginning May 2005, preparations were finished and now the entire program had to start. To give you an idea of the work involved, we had to organize the journey on behalf of the Belgian survivors and their relatives, the cultural program for the Belgians, coordinate the logistical effort of the hotels in the area, the many Italian guests who came in busses and on their own, the survivors from Poland and Slovakia and our Russian survivor. Besides that, the logistical preparation for the different commemorations were prepared as well as for the first time an international youth camp, with young people from Belgium, Germany and Italy. This required a lot of preparations, like lodging, billeting and so on.

Carl Dalke arrived some days before from the States and was directly very involved with the many young boys and girls and visited with them the Memorial Site of the Buchenwald concentration camp, as well as answering numerous questions about the Second World War.

Finally, on Friday the 13th, the big day came. Two days before, everything was prepared inside and outside the Walpersberg Mountain and sunny weather was the last thing we needed. Our prayers would be listened to.

We had great support from Lt-Commander Rielage, from the United States Embassy in Berlin, which also came for the first time with a official military delegation and the colors of the United States Armed Forces. The ceremony started already in the morning at Kleindembach, where mayor Karl Christ had prepared, yet again, a very well organized commemoration. After the ceremony, people had some time to relax and enjoy the typical Thüringen cuisine.

Also, a scale model of the Walpersberg mountain was presented and the numerous visitors were very keen on receiving explanations from the survivors. In the afternoon, everyone was expected at the Walpersberg Mountain. Ms. Steffi Freyer welcomed on behalf of the "REIMAHG" e.V. association the many visitors and the very emotional ceremony started, spoiled by a magnificent weather.

Wreaths were laid by the different authorities from Russia, Poland, Italy, Belgium, Germany, Slovakia and the United States. After the ceremony, who took around 2 hours, people could visit the inside of the Walpersberg mountain, where a impressive exposition was waiting from them.

This went on until late afternoon and in the evening, everyone met again in the "Rosengarten" where a large buffet, music and the opportunity to talk with each other was possible. The young American soldiers had the time of their lives and even the live singing of our Russian Viktor Pleschkewitsch contributed to the great atmosphere that went on until the early hours.

On Saturday, different commemorations were organized by the district and towns around Kahla. Although the weather changed to a slight rainy day, many people followed the program.

In all, this year's commemoration was a very emotional one, where survivors and liberators met after a long time and had the time to talk about this difficult period.

I would like to close with my sincere greetings to those veterans of the 89th that liberated the many thousands in the "REIMAHG" camps, but at the same time ended the many years of dictatorship for the German population. So, even they were liberated. Our deepest recognition will go towards those, who stayed on the numerous battlefields, fighting for those who looked so forward to liberation and the end of this terrible war.

Next year, beginning of May, the commemoration will take place. Maybe some of the 89th veterans and their relatives will find the time to come to Europe for a tour of remembrance.

God bless you !

Patrick Brion
Warrant Officer, Belgian Armed Forces, Brussels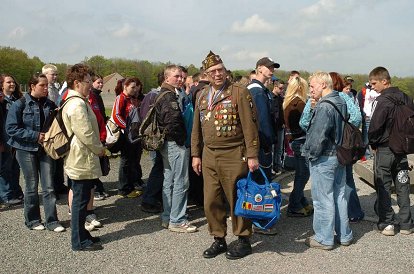 US Veteran Carl Dalke with the young people during the visit to Buchenwald memorial site.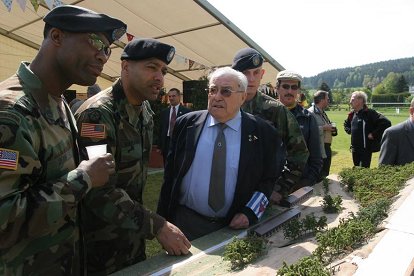 Belgian survivor Paul Baert explains the American soldiers the Walpersberg site, standing beside the model.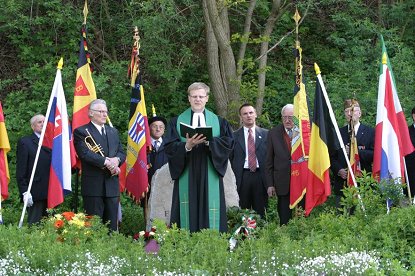 At Kleindembach, a short prayer is kept to remember those who didn't survive.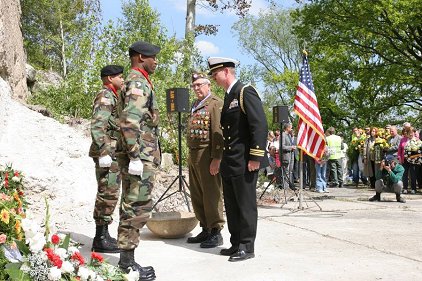 US Veteran Carl Dalke and Lt-Commander Rielage honour the many victims.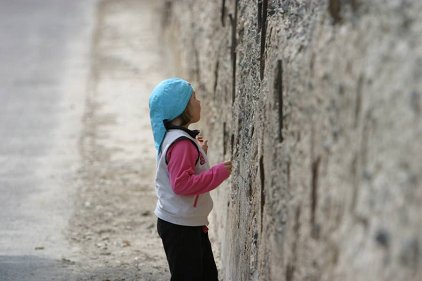 A very symbolic picture. A young Italian girl looks at the remains of one of the bunkers.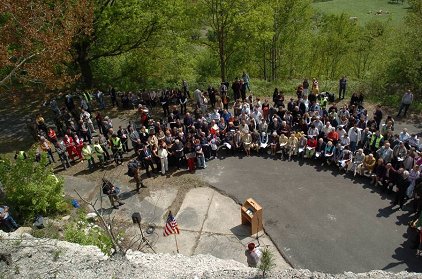 A view from above during the commemoration at the Walpersberg.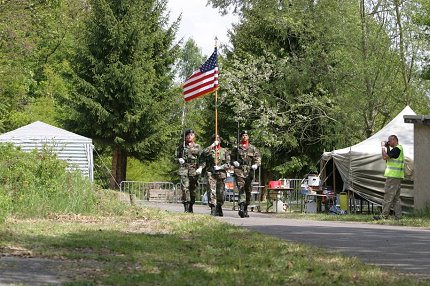 The United States Armed Forces and the colors.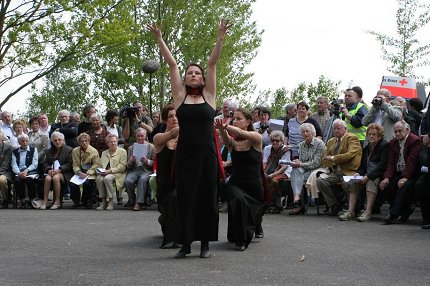 One of the highlights of the ceremony.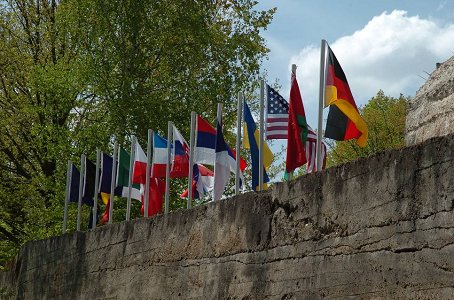 A view of the many flags, representing the countries present.




Robert Bruce Stauffer: 353th Regiment, K Company

Thanks for the article about crossing the Rhine. My husband, Robert Bruce Stauffer, was a member of Third Army, 89th Division, 3rd Battalion, 353th Regiment, K Company, a Browning Automatic Rifle infantryman.

He passed away last year at age 80. For years and years he never spoke about his combat time in Europe. In fact, he always said that he didn't know where he was or where he was going.

About ten years we found some old papers, some folders, and the hard cover 89th Division Book. We began to retrace his movement in Europe. Yes, he crossed the Rhine at St. Goar on those terrible days in March, 1945. Reading about those hard days makes me sad but I am eager to learn.

My daughter and I may get to Germany this summer and we will surely visit that Rhine crossing!

Thanks.

Mary Stauffer,
Niles, Michigan
Stabos@aol.com


A Thank You from Eisenach

Dear Raymond,

This evening I've given your description of 89th Division's activities in our region 60 years ago (Central Europe: Eisenach/Thuringia etc.) to the mayor of Eisenach, because tomorrow in the morning exactly 60 years ago your troops came to Eisenach and tomorrow there are in Eisenach some events in memory of this day sixty years ago! I did find your site of the 89th Division of extraordinary interest especially for the younger here in the region! I'm now 67 years old. In that night April 5/6 1945 we were sitting in a shelter in a hill near the bank of Hoersel river. My grandmother (81) decided to stay in her (after the moving of the "young" Gleisers with me from Berlin to her in Eisenach also our) flat. She waved a white flag from our balcony in the Karolinenstreet near the station of Eisenach. I could continue the report, but I'll politely just admit in a few words:

We children loved the Americans! This is really true! My first English words were chewing gum and chocolate. To make it short: I have relatives and friends in the U. S., and I was in the states I think seven times visiting them, but not before these days of strong memories, I felt such great thank toward the Americans as I feel now, when I'm an older man thinking back to his childhood! I've spent my life as a mathematician mostly in medical research.

Now, I'm retired. In 1987, two years before the Berlin wall came down, I escaped from East Germany to West Germany, since 2000 I'm again living in the east, because Eisenach has an overwhelming nature! Your soldiers could find out this even in the combat situation.

Because of my feelings of great thank toward these nice men who came as soldiers in our region, let me offer you my assistance whenever veterans or their relatives or friends will come to Thuringia! I'll show them the region and perhaps organize something necessary.

By the way, the "Kaiserhof" where your officers spoke to the German Officials is again called "Kaiserhof" after a period of "Parkhotel" in the communist ruled time.

All the best for you and your friends!
Yours sincerely
Wolfgang Gleiser
Dipl.-Math. Wolfgang Gleiser
E-mail: wgleiser@t-online.de
Tel./Fax: +49 3691-733444
Funk: +49 173-3882963


Memories from a 9 Year Old German Boy

Dear Mister Raymond E. Kitchell,

I remember, 60 years ago, I was a 9 years old German boy, when the American troops captured Eisenach in Thuringia on the 6.th of April. A wonderful time followed. We had holidays for half a year and the time with the American soldiers was interesting and adventurous.

Later on I told my grandchildren stories about this time and last year my grandchild David Miller (12 years) -who now lives in Yorktown in Virginia - got the task from his History-Teacher to write about World War II. He remembered these stories and wrote about these in his Scrapbook.

So the stories came back to America. Now I will tell you one story, which I always remember. This story opened my mind about the American Living and Thinking. One day before the American troops entered Eisenach (6.th of April), the German Soldiers fled and threw away their uniforms, weapons and badge of rank in the woods around Eisenach. Us little boys found all these places. We knew, it was strictly forbidden to have weapons, but it was too exciting, a real adventure.

Later on we came in closer in contact with the American soldiers and a interesting meeting point was at the backside of the Hotel Zimmermann (old name was "Tannhäuser") in front of a Park were the soldiers often went for a walk with the "Fräuleins". The main entrance of the hotel was on the "Karlsplatz". I remember an American Soldier, who spoke German fluently with no accent. The kids loved him. He was very friendly to us and we always had long conversations with him. I think his name was Richard and he arrived a little later in Eisenach. He stayed until July. One day he said to us, that his comrades were eager to have Nazi-Pistols and we would get chocolates pineapples, some other foods for a good pistol. He asked the right people. We were proud to make deals with the American army. It was the first time in my life to eat pineapples.

One day a friend of mine offered a heavy pistol, an impressive issue. Richard and the cook, a large heavyweight man looked at this real find and made right away an offer. I had the feeling, it was a good deal, but my friend was not satisfied. They could not agree which each other and my friend took the pistol back and went away. I remember I was frightened. They let him go with the pistol. These two soldiers let him go. I couldn't understand it.

I told my mother about this in the evening. My mother almost fainted and she forbid me the second time to make such deals (with no success). This scene I often thought about in my life and I came to the conclusion, that in the country where these soldiers came from there must be therefore higher law aside from the military power. This law gave rights to little German boys too. Obvious these two soldiers thought this way.

I write this to you, because the 89.th Infantry Division captured Eisenach. May be, "Richard" belonged to this Division. I am not sure. To my regret I will never find him and I could not say thanks to him. With best wishes for you and your comrades at 8.th May. Thanks to all of you.

Dieter Müller-Veeh
Klosteralle 51
20144 Hamburg
Germany
320037141054-0001@T-Online.de


Crossing the Rhine

As a result of my article in the April, '05 issue of World War II magazine, titled "Red Ran the Rhine". I received a phone call from Philip Leveque of Molalla, Oregon. He told me he was in the 1st platoon of E Co., 354th Inf.and that he knew the lieutenant mentioned in my story. He identified him as Elmer Carl Johnson, he thought of Belmont,California.

The lieutenant saved my life that fateful night and I would certainly like to contact him. Do the records of the 89th Div. Ass'n have an Elmer Johnson? If so, what is his address? I would appreciate any help thatyou can give me in this regard.

Oscar & Adele Friedensohn
ARKDEL@webtv.

Article from WWII Magazine: Crossing the Rhine


Thankful for Being in the 89th

Dear Mark:

I entered active duty in July of '42 was assigned to the 89th that same month so I was with the 89th from start to finish. When we arrived there the barracks were not finished with no hot water or sidewalks.

I was assigned to the Med. Det.3rd battalion, 355th Reg. So I trained from full division to light division and back again. We were not too happy going to the light which took all our mechanization vehicles.

I thank the LORD MANY TIMES for being in the 89th compared to many of the other units who suffered so many causalities. Although the first casualty in our unit was a company medic who was hit in the red cross of his helmet, needless to say the rest of us painted over ours.

Good visiting with you again.

Your friend in service:

John
j_spomer@msn.com


Looking for Information on Robert Cole Caine from his Son

Dear Sir,

I'm writing to you to see if you might remember Robert Cole Caine, that was with the 89th Inf. Div., 354 Co F, he was a Corporal with this unit. He was later sent overseas as a replacement with the 83rd Inf.Div., Co L

He had a nick name " Killer Caine " has he like to box. He was KIA on August 12, 1944 near St. Malo, France.

Would you be able to look up his name on a roster, he was serving with the 89th between 1942- April of 1944.

Any help would be appreciated if you or anyone would remember . I have a picture in his military uniform with the " W "pn shoulder and his Corporal stripes.

Sincerely,

Lyndal Caine Kellogg

P.S.: I was born Sept. 24th just after his death and was adopted.
Irishpoppy44@ AOL.COM


89th Division as Shock Troops

Greetings:

In reply to the question posed by Paul A Grove in the April 2005 issue of The Rolling W:

"Does any one remember the Stars and Stripes Quote that the Germans called us shock troops for this operation?"

I delved into my previously written notes to check reference to this questioned title and am herewith presenting this tale. I have several times in the past submitted stories "From the Bottom" as I experienced life with the 89th Division as one of the younger "kids" on the Table of Organization.

I believe this story is self explanatory, I am proud to still be of fair health and ability to be of service.

James O Hahs
Pvt., Sv Co 354th Inf. Rgmt, 89th Inf Div. 1944 - 1945

LORD HAW HAW - CAMP LUCKY STRIKE Feb. 1944 Sgt. Sam Cadomo, who we, the Vehicle maintenance section of Service Co. 354th Inf. Regiment, referred to as the rich guy who was a Sargent, had managed to carry a small (at the time) battery powered radio along with his issue equipment. The required eight flashlight batteries would last just a short while, so all of us "scrounged" batteries whenever necessary.

Three nights after we had settled into our tents, at Camp Lucky Strike, we listened to "Lord Haw Haw", the Propaganda Voice of Germany, reporting that the 89th Division had landed in Le Havre and we were encamped in Camp Lucky Strike near the channel coast, assigned as a unit of the Fifteenth Army. They are trained in Mountain, Swamp and Desert warfare and are well educated shock troops. We wondered where the "shock troops" rating came from. Each night we also listened to the wavering sound of an airplane as it droned overhead. We referred to it as Adolph's Bed-check Charlie. Other rumors circulated of infiltrators getting into camp and a murder or two occurring. These were never verified or any general area mentioned. We realized first hand the purpose of the scattered signs: "The slip of a lip can sink a ship."

It was not until fifty some odd years later that I realized that this opinion came from the fact that their Intelligence had surmised from the Colorado Mountains, Louisiana Swamp and California Hunter Liggett maneuvers, plus the fact that many of the troops were college educated. This came to light when the ASTP group and former Air Corp personnel began to voice their presence in the Society of the eighty-ninth division.

jameso@midwest.net


Looking for Information on Joseph Wright

Don't know if you can help me or not. I have searched the internet for information looking for information about my father's unit in WWII. My father, Joseph Wright, passed away back in 1961, when I was 8, so I never had the chance to talk with him about the war or where he was. My mother recently gave me a few documents she had including his separation papers. They show that he was in Co G of the 355th infantry assigned to the 42nd Division in the ETO. They show he arrived in Europe on Jan 21, 1945 and stayed 16 months until April 30 1946. He was a rifleman, vehicle operator and an assistant squad leader and participated in the Rhineland and Central European Campaigns.

My younger brother in Maine has his picture album from the war, which my mother recently gave to him. I know from the pictures that he was at at least one concentration camp as his album included some very graphic pictures from a camp. I don't know which it might have been.

Adding to my confusion in trying to figure out where he might have been is the fact that in his album is a patch from the 89th Infantry Division -The Rolling "W". From what I was able to find, the 89th landed in France in 1945 (which corresponds to the time my father arrived). So I'm not sure why he would have a this patch while his papers say he was with the 42nd Division. Any insight on that would be helpful.

I'm simply trying to find out where his unit was around the time when he arrived, where they traveled to, and any engagements they may have been involved in during his time there.

Any suggestions on where I might find information on his units activities? I appreciate any information or guidance you can offer.

Thanks
Edward Wright
orion6@cox.net

From Mark Kitchell
I certainly can. You father was in the 89th for most> of his combat. However, like many 89ers, he was> transferred to the 42nd after the war. The 89th was disbanded and most members did not have enough> 'points' to go home. He was involved in occupation> duty in Austria with the 42nd.

For information about his service, I urge you to read> our website thoroughly. Also, the book "Good> Soldiers", about the 353rd Regiment of the 89th is a great overall view of the Division from beginning to end.


Memories of Ohrdruf

Dear Mark,

I just read with interest the accounts of the liberation of Ohrdruf. I was particularly interested in your society president's account. I would like you to forward this e-mail to him. I think it's entirely possible that I know some things that he doesn't know about April 4th. For example, I know what happened to the SS guards who were posing as townspeople. I also know how they figured out that they were SS guards.

My father (who died in 2002), was Brendan Higgins. He was in the 89th. He frequently volunteered for reconnaissance and he operated a Howitzer. He absolutely hated to talk about the war, which is funny because after WWII he joined what was then known as the "Cadets." I suspect he did this because he really just wanted to fly airplanes. He did fly...lots of them. And he evacuated the wounded in his helicopter in the Korean War. Anyway, he never went to a reunion or anything like that and as far as I know, I'm the only person he ever discussed Ohrdruf with. I remember that when I was in college, I came home late one night after being out with my friends. Dad was watching one of those black and white WWII Nazi documentaries. That was when he first told me about it. After that, I would ask him questions generally when we were alone and watching television. I think it was somewhat therapeutic for him.

I think the thing that the two things that bothered him the most don't appear in any of the accounts I read on your site. Of course, all the bodies stacked up like cord wood was horrific. But, I suppose you have to understand that my father was a generous man. He would give you the shirt off his back. Once, he came upon a displaced family at a truck stop and brought them home for Thanksgiving dinner. Anyway, when he saw the starving survivors, he gave them all of his rations. Other guys gave them food too. They didn't realize that it's a bad idea for people in such bad shape to eat very much all at once because there were no medics there. The upshot is that his food killed some of them. I think that fact practically killed my father.

Anyway, this has depressed me. I have some pictures my father took in WWII if you have any interest.

Elizabeth Higgins
Aqua24q@aol.com



Return to top