Winter 2005 Newsletter
For all veterans, relatives and friends of the
89th INFANTRY DIVISION
WORLD WAR II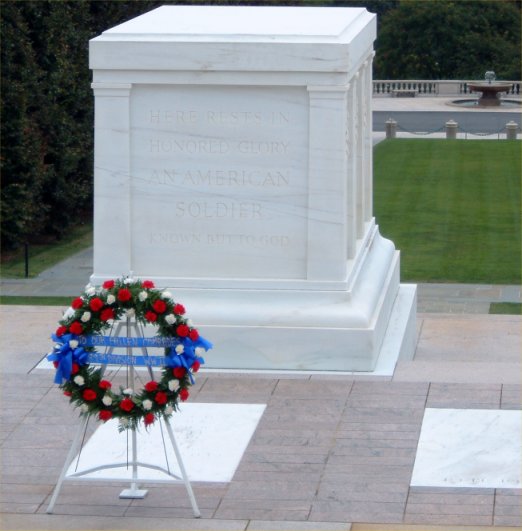 Tomb of the Unknown Soldier, August 2004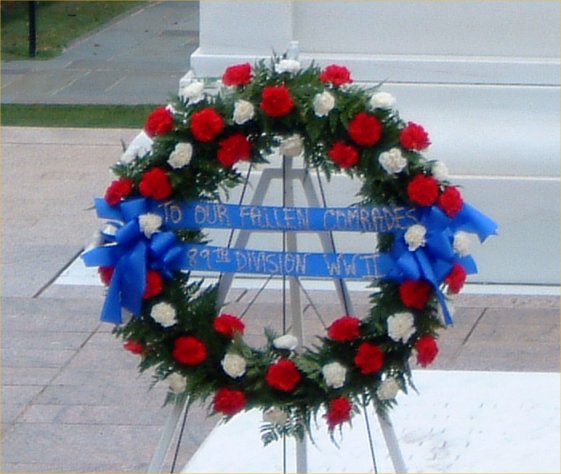 Close Up of 89th Infantry Wreath, 2004 Reunion, Arlington National Cemetary

Table of Contents: Click on the Link Below to Go To That Section:
Announcements and Editor's Notes
Society Announcements
Website Developments
Taps
Letters and Exchanges


SPECIAL INVITATION For The Commemoration Of The Liberation Of Ohrdruf

[If interested please email: Guttmann.Voss@t-online.de]

Dear Veteran of the 89th Infantry Division,

We are contacting you for this important occasion. However, allow us to introduce ourselves to you. We are a non-profit organization in Arnstadt in the State of Thueringen in East Germany. Our objectives are the documentation and publication of the history of the Concentration Camp Ohrdruf, as well as, the associated fates of the prisoners, liberators and the activities in the area of Ohrdruf-Arnstadt-Jonastal during that time, as well as education of the public. We base our findings on profound archive findings, as well as time witnesses.

On 04 Apr 1945, members of your 89th Infantry Division liberated Camp Ohrdruf as on of the first concentration camps in Germany. General Eisenhower, General Patton and General Bradley each personally visited the camp where approx. about 30,000 prisoners suffered.

Memorial events to commemorate this significant liberation will be held from 8 April 2005 - 10 April 2005. Attendance range from with survivors of the camp , politicians, local officials and youth organizations. We would like to make this historic event public and known so that such cruelty and suffering will never happen again. We would like to invite you, as important witness of this event so many years ago, to this event.

Perhaps you also still have documents which you could loan to us for this event which show your stay in Ohrdruf or the area. We are thinking of perhaps written accounts from your memory, diaries, sound, and film and/or photo material.

We would be honored to have you as our guest. We would of course take care of all your needs during your stay (lodging and food) and will pick you up at any German airport you may arrive. With pleasure, we would like to welcome you and take care of you during your stay in Thueringen. Perhaps a Space-A flight to the US Military Base of Ramstein AB is an option?

Please don't hesitate to contact us if you have any questions or if you are able to contribute to this historical event by attending or providing material.

With best wishes,

Sincerely,

Michael Guttmann: Guttmann.Voss@t-online.de OR info@gtgj.de

www.gtgj.de




Return to top

Announcements, Editor's Notes and Website Developments

Editor's Notes

Dear friends:

Mark and I were so pleased to see many of you at the Washington, DC reunion in August. It was certainly a wonderful event. So many friendships were renewed and new ones made. Sadly, time is passing us all by and we completely understand and support the Society's decision to cease operations in 2005. We very much appreciate and kind words of support from all of you. We also appreciate the generous offer of support from the Society for continuing operations of the website.

Mark has assured me that he will continue to operate and grow the 89th Division website for many, many years to come. Judging by the numerous emails we receive each month from relatives of veterans and researchers, there is a continuing interest in the activities of the Rolling W and the World War II generation. I am confident will to communicate the proud tradition of this division of citizen soldiers. All the best, Raymond Kitchell

We welcome stories, comments, pictures, and questions from all veterans, their families and any other interested parties. It would help us very much if, when emailing us, you include the following background information if available:

1. The veterans full name and 89th unit, e.g., regiment, battalion, company.
2 Any previous exchanges with us on the subject (very important).
3. Whether the vet is still with us. If not, do you wish us to keep his name on our email list, marked "deceased", in care (c/o) of your name and email address?
4. Other relevant background.

Thank you. Co-webmasters

Our email lists are available at any time upon email request to the Editor.


Return to top

Society Announcements


A MESSAGE FROM YOUR PRESIDENT , Richard Lee

I am honored to once again find myself elected your President. This time, though, the other officers and I are not looking forward to planning future activities for our Society.

Rather, we face the need, over the months between now and June, 2005, to bring our beloved 89th Division Society to a fitting end - by way of a "soft landing" - that fully satisfies our needs and wishes.

First, we owe it to you fellow "89ers" to urge you to write those stories - those "zingers" you always wanted to write but never did. Now, you have a last chance to send them in to our "Rolling W" editor for publication. Don't let this chance skip by. Get them in quickly. Your avid readership is waiting for them. The next issue of our Rolling W, will be published in April 2005, and be dedicated primarily to the printing of those many stories you'll be sending.

Then in June 2005 we'll have our final Rolling W - which we plan to consist mainly of an up-to-date, "Keep in Touch", listing of our membership including unit, spouse's name, address, phone number, and hopefully even fax number and/or email address.

We expect this is not the absolute end. Our co-editors of the 89th Division website have assured us that our website will continue for as long as there is a need for it.

Also, there is no reason we should not strive to keep our contacts with our 89th buddies and friends by holding mini-reunions among the subordinate units of the Division. Indeed, there may even be an initiative by an energetic group to put on one or more future Division reunions. We shall see - lets hope so.

Happy holidays, Dick Lee


A MESSAGE FROM YOUR 1ST VICE PRESIDENT, Robert A. Andersen

It was a grand, great closure at the reunion in Washington D.C., a credit to all of the organizers. Chick Cecchini's meticulous planning paid off; the help of the Armed Forces people was a tremendous factor in our success. The visits to the W.W.II Memorial, the Holocaust Museum/National History Museum and other sites were inspiring. Those of you who took in the performance of "Sheer Madness" at the Kennedy Center enjoyed an evening filled with laughter. Our service at Arlington with the widows laying the wreaths and two of our men honored by the laying of our division wreath on the Tomb of the Unknown Soldier, was memorable.

The board meeting and the general membership meeting came to the conclusion that we are not able to continue our organization, and must close up shop. The necessary legal steps to accomplish this are in the stages of development.

The closing banquet was the culmination of four days of work. The program included the presentation of awards, and our featured speaker, General Brown, who gave us updated information on our troops serving in harm's way. It was a grand success and a fitting closure to our Society's History.

Godspeed and good luck to all of you, Bob Andersen


A MESSAGE FROM YOUR 2ND VICE PRESIDENT (Programs) Louis (Chick) Cecchini

My message this time is twofold and long: 1st are my comments on the reunion -- and 2nd are some comments I have on the dissolution of our Society.

1. The Reunion. Those of you who were at our recent reunion in the Washington, D.C. metro area already know that it went quite well. In attendance were about 200 members - who brought along about another 160 guests - mainly family. To me this was a wonderful turnout because back two years ago when we started the initial planning for the 2004 reunion we had to face the reality of a pattern of clearly diminishing attendance at our reunions, so we projected (optimistically) a likely attendance of about 250. Accordingly, I budgeted on that basis. Of necessity, there has always been a requirement in our budget planning that we provide for contingencies to preclude any deficit. That was particularly true as our treasury in 2002 was in no shape to bail out a loss on this reunion. Yet at the same time there is always the need to provide an interesting agenda for those who spend their money to travel from far off places - while often times financing the cost of accompanying guests. So, I came up with a safe registration fee of $220. That, of course, consisted of two parts: First, there was the one 1/250ths amount of the total fixed costs (those which we would incur regardless of the number attending) and second, those total costs incurred for each attendee (such as meals, hospitality room, bus charges, entertainment, souvenirs, etc.). Well, whether or not the above is clear to you, please know that the astounding actual attendance produced a lot more than enough to cover the expected expenses. Looking back we realize that there were two factors which contributed to the far greater than originally planned attendance. One was the much later announcement that we'd be visiting the WWII Memorial and the other that this would likely be our last reunion - a "last hurrah". Unexpectedly, we cleared roughly $22,000 on the reunion!. The exact figure is not yet determined because the detailed cost gathering is still underway.

I must add here that I had a lot of help in putting on the reunion. First of all, there is Dick Lee, back again as our President to help in the closing of his beloved Society. He opened the gates for all of the great support we got from the Military District of Washington through which we obtained the Color Guard Services of the 3rd Infantry for our Saturday services as well as the services given us by the Army Band who entertained us so beautifully at our luncheons and the banquet (saving us much money we budgeted earlier for entertainment). Next are: John Sherman and Bill Scudder who helped early-on in planning the Memorial Ceremony, and were bulwarks of support and assistance throughout the planning and development stages while always being available for most valuable consultation. They all worked while I got the credits.

2. The Dissolution of our Society. Also announced elsewhere in this issue the decision was taken by our Board of Directors -- and officially approved by the membership present at the General Membership Meeting on 3 September 2004 -- to dissolve our Society, with the process to commence immediately following the reunion. The officers also elected at that membership were elected with the understanding that they would be "caretaker" officers to manage and oversee the draw-down actions. This could be done abruptly - even by 31 December 2004. Our thought, however, is to have what we're calling a "soft landing". This is to allow for several things to take place over a relaxed time span - while taking the necessary legal, accounting, and administrative actions required - ending on 30 June 2005. The most important of these is to provide for two more issues of the Rolling W after this one - an April issue, and then a final one next June. Our idea for the April issue is that those of you who still have in you that "one special story" that needs to be printed before we comply with the "close station - march order" command - now is the time, last chance! Do it ASAP as the deadline for submission will be about February 15th. Send it in to our Editor (be sure to check out her newly changed address in the front of this issue). As for the June issue we are expecting it to be a very large one - large enough to contain a final, fully verified listing of our membership complete with member's name, WWII unit, spouse's name, postal address, telephone number - and if applicable, email address and fax telephone number. We think that, after the verification process we plan to undertake after the year end, the number of bona fide members in good standing will number about 850. We'll keep you apprised as things progress.

God Bless you all and your families these holidays, Chick


A MESSAGE FROM YOUR 3RD VICE PRESIDENT (Communications) John Sherman

To each of you out there with an as yet unpublished story to share with the rest of us, there's still a chance to put it to paper and send it on to Delores. Casual conversations at the reunion always remind us of incidents that others would like to read. So please take advantage of these last opportunities for a special audience.

Warmest holiday greetings, John

[Website Editors Note: We will ALWAYS gratefully accept for stories, poems, photographs for publication!]


A MESSAGE FROM YOUR SECRETARY/TREASURER Elmer Herbaly

I am reporting to the Comrades of the 89th Division Society on the financial state of our organization. As of October 5th we have the following accounts. (See financial and minutes) Before Dissolution this cash must be accounted for at the IRS.

I am including the minutes of the general meeting held on September 3rd at our final reunion. An earlier meeting of the executive board is also included. These minutes declare that the Society is dissolved. The agendas submitted by vice president Cecchini outlined the problems facing the close out were very informative and should be included with the report of the reunion.

The current officers are to carry on as a rear guard to finish up the work of closing the doors for the Society. I am here to remain the Agent, and my address will continue to be the agency. Slowly but surely we will carry out our duties and bid farewell to all our great comrades.

Elmer L. Herbaly, Secretary/Treasurer


A MESSAGE FROM YOUR PAST PRESIDENT Phil McAuliffe

Our reunion in the Washington, DC area was a fitting close to our grand 89th Division Society. It was memorable and fun. The Doubletree Hotel provided an excellent setting.


Kathleen joins me in wishing all Happy Holidays and a Happy New Year.

Phil McAuliffe


FROM THE EDITOR OF THE TRW, Delores Wilkerson

It was an honor to be invited to the 89th Division Society WWII 2004 reunion in Washington DC. From the moment of my arrival, it was a wonderful event that I will always remember. As events unfolded, I was frequently aware of the camaraderie of the veterans to their families and comrades. The social changes in behavior that have taken place in the US during the past 60 years seemed distant in your company. Most of us recognize that there is a difference in your characters, and that you are extraordinary.

As you know, we will have two more issues of TRW after this December 2004 issue. The officers have designated the April issue as largely dedicated to membership stories. Send your stories and experiences as it may be the last opportunity to see your story in TRW. Please send handwritten and typed stories a few weeks before the deadline, because all are typed for TRW computer files. If your story is typed and stored in your computer, and it's possible, please send your story in an email file, or download it on a floppy disc or CD to mail. In any case, please send your stories, whether hand written, typed, or email. In the past there was a team of two or three people who worked together on TRW, but it's no longer the case.

Thank you for the wonderful stories, and your thoughtful letters and notes. I attempt to put every correspondence in your bulletin. Stories not in this publication will be in the next issue.

Have a Happy Holiday, Delores

The deadline for the April issue of TRW is February 15th, 2004






Return to top



Website Developments

My sincere apologies for the lateness of this Newsletter. The website is in a transition period as I continue my duties of maintaining the website and begin to act as the primary writer for the website and contact with the 89th community. My father remains an integral part of this website in both contribution and inspiration!

I can promise you a large scale presentation of the many pictures I have from the 2004 Washington, DC Reunion. That should be online in about a month. As usual, you can contact me at markkitchell@yahoo.com with any questions and concerns.

It was wonderful to see so many of you in August. Take care.

Mark Kitchell

I am repeating this special request for those who experienced the horrors of the liberation of Ohrdruf.

Special Request about the liberation of Ohrdruf from: Lelia Levinson: leilalevinson@yahoo.com

If you were among those soldiers who entered Ohrdruf or if your father was, I would greatly appreciate your getting in touch with me. I am a writer and professor of literature in Austin, Texas, and I am working on a book about the G.I.s who came upon the Nazi concentration camps at the end of WWII. I would be honored to talk to those of you willing to share your memories. If you have email, my address is: leilalevinson@yahoo.com

If you don't have email, please send me your phone number and I'll call you at a time of your convenience.

I am most grateful for your consideration. My father was a doctor attached to the Third Armored Div. which liberated Nordhausen at the same time the 89th was at Ohrdruf. I understand that these memories are difficult to bring up but the service you gave to those prisoners and to our country's honor is of great importance for history.

Thank you,
Leila Levinson
3206 Gilbert St.
Austin, TX 78703
512-479-6159

Return to top



Taps

Carl Peterson Co. F, 353rd Inf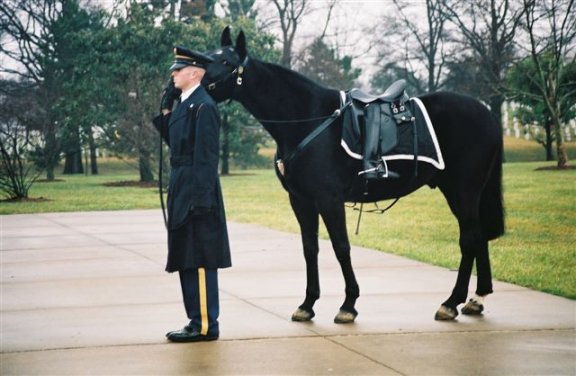 With sincere regret your Executive Board informs you that Carl Peterson, your recently outgoing President, died peacefully at home the 14th of November. Carl had been fighting multiple cancers for several years. Inturnment services were conducted at 3: p.m. at the columbarium of Arlington National Cemetery on January 5th 2005.


Following graduation from the U.S. Military Academy in the class of 1944, Carl received his commission as a 2nd Lt. of Infantry. He reported for duty with the 89th Div. at Camp Butner, NC and was assigned to Co. F, 353rd Inf. Being a regular Army officer he also served in Korea and later in Viet Nam as a senior commander of Infantry.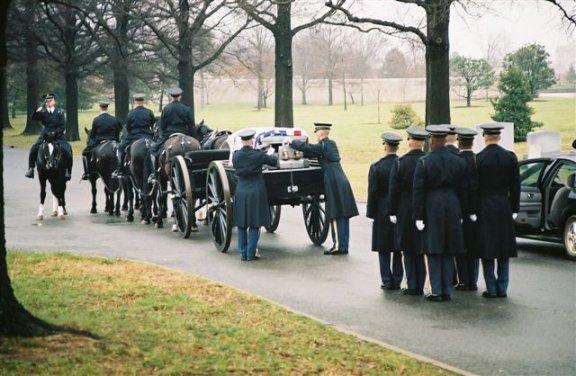 After retirement Carl became an active member of our Society, always accepting roles of responsibility to include taking over in 1999 as President following the death of our then President, Donald C. Johnson. During our recent "Last Hurrah" reunion your Executive Board recognized Carl's great leadership throughout his five year tenure as President of our Society by presenting him with a special show of our appreciation by way of a unique plaque worded specifically to express our extraordinary esteem for his service and leadership.

Following is a related message sent to the Society by Carl's sons and daughters - received before his death - which reads as follows: "On behalf of our father, we would like to thank the members for recognizing his years of service as President of the Society. The plaque of distinguished service that was awarded to him at the final reunion's banquet is greatly appreciated. He will always be one of the 'Good Soldiers'! Signed: Donald C. Peterson, Linda M. (Peterson) Sexauer, Mary Kay (Peterson) Malin, Carl L. Peterson, III"

Ben H. Logan 89th Div 355th Inf, SV

Received from Hilda Logan

Sorry to advise that Ben H. Logan passed away on May 24, 2004.

Ernest J. Sweetheimer 89th Div HQSP

Please be advised that Ernest J. Sweetheimer passed away on June 15, 2004.

Orville E. Welsh 89th Div 354th Inf HQ 1

Received from Marlene Watson

We received notice that Orville E. Welsh passed away Nov. 30, 2002.

Thomas L. Truman 89th Div C Co 355th Inf

Received from the family of Mr. Truman

Just a note to inform you that Thomas L. Truman died Aug. 1, 2004.

Edward Person 353rd Inf Band, 89th Div Band 1942 - 1945

Received from John H. Goodsman, 89th Div Band

Loretta Person has informed me that her husband, Edward Person, passed away on July 16, 2004. He had valiantly fought his medical problems for several years. Ed had been a member of the 353rd Inf Band and the 89th Div Band. He and Loretta were regular attendees of the 89th Division Band reunions, in spite of his physical problems. He will be remembered for his wit, humor and positive outlook in spite of his medical problems.

Robert D. Gibson 89th Div 354th Inf, HQ2

Received from Dorothy Gibson

Robert D. Gibson passed away July 1, 2004. He enjoyed reading the Rolling W very much. Please send it on to someone else now that he is gone.

Additionally from Del Andrews of 714th Ordnance Co about Robert D. Gibson: I am sorry to inform you that Robert D. Gibson of the 354th Inf. Reg. HQ2 passed away peacefully from heart failure. He and I have been friends since college days, and we were going to the reunion together. He will be greatly missed.

Carl R. Muth, O D 89th Div CN Co 354th Inf

Received from Wilma B. Muth

Dear 89th Division Society members, My husband died July 9th, 2004 at home. He enjoyed attending reunions but missed the last one because of health. As an optometrist he served his community for 50 years and was a member of VOSH (Volunteer Optometrists Serving Humanity.) This took him many times to Mexico and other Central American countries to clinics for the poor. He had pride in his country and believed in helping those less fortunate than he. He is survived by his wife Wilma, three children and two grandsons.

Andrew Hallochak



Andrew Hallochak 82, passed away Thursday afternoon (12/9) in the emergency room at Forum Health North Side Medical Center after suffering an apparent heart attack. He will be sadly missed by all who knew and loved him.

Mr. Hallochak was born December 15, 1921 in Youngstown, a son of John and Eva Kitt Hallochak, and was a lifelong area resident. He was a WWII U.S. Army veteran, serving as a combat engineer in the 89th Infantry Division. Mr. Hallochak retired in 1986 from the General Motors Stamping Plant in Lordstown after 10 years of service. Prior to that, he worked for the National Tea Company at the Loblaw warehouse in Austintown, and for Briggs Manufacturing.

Mr. Hallochak was a member of St. Christine Church, and the Fraternal Order of Eagles Aerie #3298. He enjoyed cooking, dancing, playing the video slot machines at Mountaineer Park, and spending time with his friends at the F.O.E.

His wife, Mary Louise Bayer Hallochak, whom he married January 10, 1948, died October 26, 1984. He leaves a son, Andrew J. (Sharon Cunningham) Hallochak of Farmington Hills, MI; a daughter, Audrey Hallochak of Sacramento, CA; two sisters, Mary O'Hara of Youngstown and Helen Sobkiw of Arnold, PA; and a granddaughter, Amy Hallochak of Farmington Hills.

He was preceded in death by a sister, Katherine Zone.

Gerhard A. Walther 89th Division

Received from Juanita Walther

This is to inform you that Gerhard A. Walther (Jerry) passed away suddenly on Sunday, Nov. 9, 2003. He was a member of the 89th Division Society for 14 years and we thoroughly enjoyed getting together for the reunion in 1988 at Camp Carson, Colorado Springs. We enjoyed seeing other servicemen and their wives that we met or shared apartments with during WW II. During that time many wives followed and had jobs in camps or near where their husbands were stationed. We have kept in touch with many over the years. Our marriage and army life started in Camp Carson.

Elmer O. Pollari 89th Division

Received from Alice Pollari-Tonne

Dear 89th Division, I deeply regret to inform you that my father, Elmer O. Pollari of P.O. Box 105, Stanford MT 59479, passed away on May 8, 2003. My Dad spent many hours reading his Rolling W. I commented "why didn't we write something about his time in the army." He would say "The stories in this book are so much more exciting than the time I had," and refuse to do anything more. Well the time my father spent in WW II was "exciting" to me. I have not lived through a war such as that. I would beg to hear anything from my Dad. And I still have the same respect for the WW II vets. I would like to pay Dad's dues for membership in the Society. I would like to receive the Rolling W myself. ( I have boxes of them from my Dad.) I am interested in information about the reunion.

Herbert A. Oerther 341 FA HW 02 T Sgt Administrative NCO 502

Received from Margaret Oerther

Herbert A. Oerther, U.S. Army Vet, WW II, beloved husband of Margaret, nee Taaffee; dear brother of the late John; devoted brother-in-law of John (Catherine) Taaffee; fond uncle of Lloyd Taaffe of Elmhurst, Michael, Mary, Connie, Robert and Jack of California; also survived by many longtime friends and business associates.

Additional from Margaret Oerther: My husband, Herbert A. Oerther, passed away July 18, 2004 due to illness. His health was not the best for a long time. We did attend the 89th Division reunion in Colorado Springs in Sept., 1988, and it was wonderful. Alfred Greco 89th Division 354th Inf

Received from M. Bachhuber A Co 354th

Alfred Greco, 81, of Fairfield Township died Sunday morning Jan. 11, 2004, at S.J. Hospital in Bridgeton. He had been in declining health for several months and a periodic hospital patient. He was born in Carmel and was the son of Leonard and Anna Melita Greco. He had been a resident of Fairfield Township since 1952 and was a lifelong Bridgeton area resident. For 54 years he was the husband of Doris Feaster Greco. A U.S. Army Veteran of WW II, he served in the 354th Inf Reg in Central Europe and Rhineland. He worked as a pressman at Price Brothers Lithograph Co in Bridgeton for 38 years until 1975. He enjoyed his garden. He is survived by a son, John S. Greco and wife Liz, one grandson, Steven Greco of Fairfield Township, and one brother, Morris Greco and his wife Jane. He was preceded in death by a sister, Millie Trollo and two brothers, Joseph and Sam Greco.

Hubert G. Matson 89th Division

Received from Margaret Yoho Matson

Hubert G. Matson, 84, left the Valley Elder Care Center, March 16, 2004, to be with our Lord after a long illness. He was born Sept. 25, 1919, in Wirt County, W. VA. He was an Army veteran of WW II and retired from the Brewer and Co. after 37 years. Hubert also served family, friends and neighbors for many years as the local handy-man and had outstanding mechanical ability. He was proclaimed the "Mayor" of the 800 block of Montrose Dr. by his neighbors. He was very active in the Fifth Avenue Church of God. He was preceded in death by his parents, Bessie and Roy Matson; three sisters, two brothers, two stepsisters and a granddaughter. Surviving are his wife, Margaret, daughter and son-in-law, Janice and Albert Eplin, granddaughter and husband, Sherrie and Daniel Lanier, 2 great-grandchildren and other family members.

Paul Carl Koenig 89th Division A Co 354th Inf Staff Sgt.

Received from Nancy Koenig and also from Phil Plumby A Co 354th Inf

Paul Koenig, 82, beloved husband, father, grandfather, passed away Wed., Nov. 19, 2003 in Florissant. Former Director of Music and Public Relations, Riverview Gardens School District 1957. Community Orchestra Conductor. Arranger, Composer. Survived by wife Nancy; sons Don and David, daughter-in-law Karen, grandsons Michael and Jeffrey; daughter and son-in-law Barbara and Peter Sturner; sister-in-law Ann Cox and nephews, nieces and cousins. Born in Lincoln Neb. 1938; BA Music Ed., Univ. of Neb.-Lincoln, 1942. Member professional music fraternity Phi Mu Alpha Sinfonia; 1941 Rose Bowl Band. MA Music, Northwestern Univ., 1947. Wounded in combat WW II. Purple Heart, two Bronze Campaign Stars. Band/Choral Director for Georgia Military Academy, Atlanta, GA 1947. Played viola, Atlanta Symphony. Came to St. Louis in 1950 as a string teacher for Maplewood-Richmond Heights School Dist.

He loved to give people a way to make music. To that end, he founded the Maplewood-Richmond Heights Community Orchestra in 1951, and the Riverview Gardens Community Orchestra in 1976. Koenig served as president of several professional organizations including Suburban Music Educators Assoc.; Missouri String Teachers Assoc. and Bi-State Chapter of the National School Public Relations Assoc. He was board member for Brain Injury Assoc. of Missouri. "Paul, you are "Unforgettable" Love, Nancy

Elmer H. Niequist M & I 354th Inf

Received from Carolyn Minehart

Elmer H. Niequist was born April 13, 1921, in Chicago, and passed away June 23, 2004 at Good Shepherd Hospital in Barrington, of complications from pneumonia. He was stationed at Camp Carson Colorado in October 1942, and served overseas with the Army COM 354th Inf 89th Division. He was decorated on numerous occasions, and his awards included a Bronze Star, a Purple Heart and Sharpshooter and Combat Infantry medals. He spent his working years as a commercial design artist for Croname, Inc. in Chicago, and enjoyed 25 years of retirement helping his family, neighbors and church with numerous construction and design projects. He loved telling stories and jokes, could build or repair anything, and started designing limited editions of wooden Christmas cards in 1990. He continued to play golf, his life-long passion until shortly before his death.

Mr. Niequist is survived by two children, Carolyn Minehart (Richard) of Barrington and Kent (Lynette) of St. Charles; his grandchildren and a great-grandchild. His wife of 61 years, Florence (nee Cameron,) died July 14th at her daughter's home. Mr. Niequist was preceded in death by his parents, Elizabeth (Jessen) and Elmer L.; and his brother, Warren (Lorraine.)

Lou Kalkbrenner, 340th FA B Received from Jane Kalkbrenner and Darrel Carnell

Louis V. Kalkbrenner, 81, of Beaumont, Texas, died Tuesday, September 14, 2004 at Christus St. Elizabeth Hospital. He was born September 4, 1923 in Pine Bluff, Arkansas and spent his childhood years in Scott City, Missouri. Lou was attending S. E. Missouri State University before being called to serve in the U S Army. He bravely served for four years during World War II as a forward observer in the 89th Artillery Division. After the war he was Chief Deputy Sheriff in Scotty County for seven years. He then began a career with Uniroyal, which brought him to Beaumont, Texas.

Survivors include his wife, Jane Kalkbrenner; son and daughter-in-law Chuck and Tanya Kalkbrenner of Beaumont; daughter and son-in-law Janie Chapman and Chuck Szabo of Houston; sisters and brothers-in-law Dee and Cletus Messmer of Scott City and Marge and Dale Vinyard of Owensville Missouri. A sister, Betty Moore preceded him in death.

John Kenosian "Smokey" G Co 354th Inf

from Hrant Youserifian G Co 354th Inf

At this year's reunion, while at Arlington National Cemetery, we memorialized the names of our departed since the prior reunion. Following is what John Kenosian contributed to our nation. His obituary could have stated: Died April 26, 1945 (the Rhine crossing) when a bullet killed his rifle, but he survived. John Kenosian, or Smokey as he was affectionately called, was one of those unique individuals who transformed from a civilian into a superb soldier; first as squad leader, then as platoon sergeant to fill the big shoes of Eugene Leach (field commissioned after Wizleben.)

John's talents, from personal observation, were the excellent rapport he developed with his squad, of which I was a member. He trained a squad which acquired the proper spirit to look out for each other in combat where, ultimately, we found ourselves. He had other qualities.

On the Rhine, at about 10:a.m., our squad was the first of G-354 to enter the water in our plywood punt. We were surprised to very soon encounter murderous fire from rifle and 20 mm AA projectiles. This was a true "baptism by fire," in which Smokey displayed his mettle. He coordinated the paddling across the river to minimize our losses, presenting a rapidly moving target for the Germans even as we suffered one KIA and several wounded. That was not all. Part way across the river John had spotted a German rifleman. He was high on the opposite bank among the vineyards, and firing his rifle at us and others. Franchetti (B A R man) reported that John, putting his oar aside, picked off the rifleman with the B A R. The rifleman then came tumbling down from his perch "Western movie style." There is more.

As an acknowledged leader, Smokey was picked to lead a total of eight six man scouting patrols for the Battalion. The most memorable for Franchetti, who was a regular, was the last one. The objective of the patrol was to ascertain the presence of German troops in a town that had received a shower of artillery all night long. On the approach to the town, the patrol encountered a large tree that was blocking the road. There was some commotion going on behind the tree. John took care of the commotion by throwing a hand grenade. During this and all of the other scouting missions, there was no loss of human life. On the last mission, the hand grenade killed a horse.

Smokey's transformation into a skillful leader can be said to have occurred over the period when he first joined the 89th and underwent the rigorous training which culminated as the 89th Infantry Division became solidified at Camp Butner. John was of the cadre that was the backbone of the Division. As members of his squad, especially we can be grateful to providence that we survived combat under his charge. May God bless the soul of Staff Sergeant John Kenosian, another example of The Finest Generation.

Judge Charles S. Crookham CN 354th Inf

From Gerald Stearns, H Co 354th Inf

The Portland Oregonian's Obituaries recently printed the passing of Charlie Crookham. I was saddened to read across six four-inch columns the headline "Longtime Judge Charles S. Crookham dies at age 81". I'd like to say a few words about Charlie Crookham. To begin with, I only called him "Charlie" once: like my son he preferred to be called by his full name. A fellow judge comments in the obituary, "He had a regal aura about him without being pretentious." In other words, he was not a stuffed shirt. Years ago, when I introduced my wife to him at a Colordo Springs reunion he told her "I slept with him before you did." True, if misleading: He was one of eight of us hapless ex-ASTP'ers in a tent pitched over cold, cold ground trying to get a night's sleep in the bitter cold of a Hunter Liggett two week training camp. We each had to dig a six-inch-deep hole in the earth which we filled with straw which we covered with our raincoats as a ground cloth. Inadequate, but we survived.

We lost track of one another until I attended my first reunions years later. Only one H Company 354th showed up besides me and so I tagged along with my Cannon Company buddy,, Robert "Fighting Bob" Zang and his gang. Over the years as an "honorary member" I was struck by how many of 354th's Cannon Company's folks showed up at reunions; I think it was due to Charles' (and 89th late president Don Johnson's) leadership. Charles was the company clerk; he managed to "liberate" the company guidon, which he brought faithfully to every reunion. More recently he was proud to show me his wrist watch, with the Rolling W on its face. He'd gotten ten of them to distribute to other cannoneers.

Doctor Phil Leveque, second battalion HQ Co., who lives just outside Portland, once referred in TRW to Crookham as Oregon's five star general. Attorney General, that is. I understand the Attorney General had a solid gold badge with five stars on it but I never saw it. Before CSC was appointed to the AG position he'd been a practicing attorney, Multnomah County Judge and Presiding Judge. The obituary carries a picture of Crookham wearing a quiet smile, and his trademark sprightly batwing bowtie. Could he have been thinking about the (obituary's) story of a mock funeral he celebrated when Roman Numerals stopped being used in the Courts, reportedly because too few (lawyers) "....knew how to read them."?

After my wife and I came back to Portland eight years ago we ran into him and his wife at a local grocery store. I learned that he was suffering from macular degeneration; I wondered how a devoted reader like him -- he was a Civil War buff, and incidentally, of considerable help on WWII to Dick Matthews who wrote the history of the 353rd -- could stand not reading. The obit says his brother Robert read to him over the last year or two 40 novels, even over the phone when Crookham was away from Portland!

Crookham continued his military involvement after WWII and eventually retired from the Army Reserve as a colonel. I would not have saluted him as a T-4 company clerk and as a civilian I would not salute him as a colonel. But I salute the memory of an ex-citizen-soldier Doer.



Return to top



Letters and Exchanges

[If you sent a message intended for publication in our Newletters but does not appear in the next issue, please inform me and we will check it out.]

 

Commemoration for the victims of the "REIMAHG" camps, May 2005

Sir,

I am sending this letter to you to ask assistance in a very important matter.

I have been conducting historical research on a former underground aircraft factory near the towns of Kahla / Grosseutersdorf (Thüringen, East-Germany) that was build during the last year of the war.

During its construction, almost 15.000 forced labourers had to work and live under inhuman conditions. Many of them died as an result of this.

Mid-April 1945, the camps were liberated by units of the 89th (US) Infantry Division.

In 2003, I founded an association in Kahla, called "REIMAHG" e.V.

The purpose of this association was to continue the research and to do everything which is possible to collect all the remaining information about the history of the "REIMAHG".

In May of that year, we were able to organise the first commemoration inside and around the Walpersberg mountain, allowing many of the survivors and their families and friends, to visit the former tunnels of the aircraft factory.

In 2004 , we organized the same event, but on a much larger scale. Beside the many visitors from Belgium, Italy, the Netherlands and Germany, there were also for the first time the Polish and Russian consuls present. This showed very clearly that our work war now much better known.

After this commemoration, we realised that only the creation of an foundation would help us create the memorial site "Gedenkstätte REIMAHG" by May 2005.

More information can be found on our website : www.reimahg.de

In May 2005, we are looking toward the 60th anniversary of the liberation of the "REIMAHG" camps.

This is the main reason, that I am sending this letter to you.

We would like to invite the Veterans Association of the 89th to join us for the commemoration the 60th anniversary of the liberation of the "REIMAHG" camps.

The commemoration in May 2005 is certainly a very special one, since the number of survivors is descending rapidly and this will be a unique occasion to gather all those that were once involved in the history of the "REIMAHG" and its forced labourers.

You as liberators of the "REIMAHG" camps, have a special place in this history and I am convinced the participation of the 89th veterans, along with former forced labourers from all over Europe, will be a very emotional event.

I am also sending an invitation to the current 89th (US) division.

If you are planning to come to Germany for the commemoration, please let me know, so that we can coordinate this effort. The best way to get to Kahla is of course by plane. Passing through Munich and from there towards Erfurt, which is a regional airport, about 50 Kilometres away from Kahla. You need to give me the numbers of people that are coming and if you wish so, I will arrange lodging for you and your escort.

Please accept my sincere gratitude in advance and I hope you will support this very important project.

With kind regards,
On behalf on the association "REIMAHG" e.V.,

Patrick Brion
Pioenenstraat 12
1800 VILVOORDE
Belgium
Faxnummer : + 32 2 755 6131
Email : Patrick.Brion@mil.be or PatrickBrion@hotmail.com


Dear Ray and Mark - I wrote you several month ago as I was searching for information re my father's military service history. You posted some information on the website for me...however, I just discovered that the email address you posted was incorrect....it mispelled my last name by adding an extra "e".....a very common mistake! :-) At the time I wrote before, you asked if I knew what company my father might have been in with the 89th.....I had no idea at the time......all I had to go on was a copy of his discharge papers which only recorded his unit at the time he mustered out....the 69th Amphibian Tractor Battalion. I would like to take this opportunity to give you some additional information in hopes that you would be able to give me more direction on how to proceed pr perhaps be able to use it to look into some of the records of the 89th. I have confirmed that my father was at Burtonwood Base Air Depot during part or all of 1944. I have confirmed (by photo) and Daily Journal Reports that he was at the 6951 Prisoner of War Temporary Enclosure (near Remagen) as a motor pool sergeant during May - June, 1945. I also know that the 69th Amphibian Tractor Battalion was formed on July 10, 1945 at Ettersberg Germany. According to my father's discharge papers he returned to the U.S. on December 15, 1945. (Concides, I think with the time that the 89th returned??) I am trying to fill in gaps between March 1, 1945 and May 8, 1945 and then from June 20 (closing of 6951 PWTE) and December 15, 1945. In my father's personal effects there was a Rolling W patch (subdued). His effects also included a Quartermaster pin....and I recall him talking about night time convoys without headlights and motor pools. I also recall him mentioning that he crossed the Rhine and that he was connected somehow to liberating a concentration camp. According to a family friend my father related an incident in which he and another GI were assigned (or volunteered?) the task of blowing up a bridge. There was German sentry on the bridge and a group of German soldiers encamped nearby. My father waded into the river, set the charge while the other GI gave him rifle cover in the event he was detected by the sentry. He said he remembered seeing the sentry go up with the bridge when they pushed the plunger. My father also related to this friend the fear in combat and being shelled. I also know that my father suffered an accidental gunshot in the hand while cleaning a sidearm. He was extremely embarrassed by the incident. I do not know when or where it occurred. I do recall him showing me the wound scar and talking about how stupid the whole thing was! My father was actually discharged 2 times: November 20, 1945 (Camp Phillip Morris) and re-enslisted. Final discharge was August 1946. I am wondering if any of this information would be useful in possibly tracing my father to the 89th? His name was William Myers. His Separation Qualification Record indicates he was "NCO in charge of Army Motor Pool which consisted of 107 vehicles, 150 drivers and 8 mechanics. Supervised the keeping of all records of motor pool. Was responsible to see that all vehicles were properly cared for." (I suspect this pertained to his position while he was at the 6951 PWTE). He entered military service from Illinois. His military serial number was 36 631 815. Finally, what is happening to the 89th ID Association? The latest info on the website wasa bit confusing. I am interested in joining as an Associate Member if it is going to continue???? Thanks again for you help. I look forward to hearing from you.....you may use my email address at rogermyers1947@yahool.com. ...... Roger

Searching for Richard E. "Dick Crandall, from Kimberly Wright: Escritora2@aol.com

I'm trying to find information about my grandfather, Richard E. "Dick" Crandall. He was a PFC in the Medical Detachment, 3rd Battalion, 353rd Infantry, but that's all I know. Basically, I'm hoping to get in touch with anyone who remembers him and would be willing to e-mail me and tell me whatever he remembers. Grandpa died before I was born, and both Mom and Grandma say he didn't discuss the war. I would just like this opportunity to get to know him better if anyone knows anything. I was wondering if you could post an announcement and my name and e-mail address on your website. I would greatly appreciate any help you and/or anyone else can give me.

Thank you in advance.

Kimberly Wright



Searching for info on Philip Cohen, 354th, from Phyllis Cohen: phyllisrcohen@gmail.com>

Hello and good day.

I have just discovered your website and would like to express appreciation for all of the work that has gone into it. The preservation of these histories is of vital importance to understanding our past and honoring the men who served in the war. Thank you very much for your efforts. The reason I write is, after reading through many of the personal stories I decided to ask if anyone on your list has any recollection of, or stories involving, my father. This question is very nearly a shot in the dark, as my dad passed away in March of 2003 and I don't have much information to go on. Here is what is known:

His name was Philip Cohen, and he was a Chicagoan. He served in the 354th Infantry from 1944-1945. On one of his letters home, postmarked February 6th, 1945, the following return address appears:

Private Phil Cohen (serial number) 36981347
COI 354th Inf. APO89
If anyone can help me discover more about this part of my dad's life, I would be very grateful. In any case, I would like to express thanks to all of the veterans for their service, and also to those who are helping them tell their stories.

Phyllis Cohen
Paris, France



Searching for Cpl James O Pottenger

I am searching for Cpl James O Pottenger, born 1911 who was in the 355th Infantry, 89th Division and was killed on April 8, 1945 at Grafenhain, Germany. He is buried in the Netherlands American Cemetery, Margraten, Holland.

He was awarded posthumously the Bronze Star for heroic action in Grafenhain in April. The Army report said his squad suddenly was subjected to intense sniper fire as it moved forward over exposed terrain. When Cpl Pottenger observed casual casualties mounting he realized residtance was imperative and moved forward with a comrad to attack the position. Despite heavy enemy fire directed at him, he continued to advance firing his rifle to divert attention from his companion armed with rifle grenades. As he gave covering fire he was fatally wounded. His courageous sacrifice and devotion to duty enabled his comrade to continue on and destroy the position thus allowing the platoon to accomplish its mission. He was killed April 8, after only two weeks overseas duty.

He was from Ohio and his wife never received a bronze star, only a purple heart.

I'm trying to find out the battalion, company and other info about him to see if I could help her get the bronze star.

He also had a brother-in-law (his sister's husband), Don T Unger, killed in 1945 in Europe, but that is all that is known other than he is buried in St Louis County, Missouri.

Please help, or let me know where I can go to find out this info.

Thank you
Bill Reynolds
chainsawworld@bellsouth.net


Waiting For The Boat—An English Interlude 

by Gerry Stearns, H Co 354th Infantry

The way I remember it, the high-pointers would go home and be discharged; the low-pointers would go home and be trained for the invasion of Japan; the middle-pointers, like me, would stay aground and occupy the hell out of the countries we had just conquered until we too could go home Courtesy of the Government, whenever that was. In the meantime Tome Rees and I, late occupants of the rear seat of the H Co second platoon HQ Jeep, would continue in Camp Lucky Strike to run the I&E office of a division-size block of tents occupied by going-home GIs. We'd distribute Stars and Stripes, try to "sell" USAFI correspondence courses, and maintained a second battalion bulletin Board. Our tent-office was at the end of the runway where the transport planes full of RAMPs (Returned Allied Military Prisoners) too off for home every day. Sure, we got into Paris with regularity, but I didn't have hundred but the Swiss government demanded we have for a seven day trip through their picture-postcard country so when I heard of an Army University opening up in England to seemed like a like a good deal. I applied, and was accepted.

Among my souvenirs is a falling-apart copy of the Shrivenham Post the publication of Army University Center No 1. Vol 1, No. 1, dated Wednesday, August 8,1945. It tells me that I was one of 3,660 GIs—24 of them women—registered for first, two month term at this former British Army Artillery OCS. Ninety percent were enlisted personnel. A fist page story of the opening ceremonies on August first, which I think I missed. Lt-General John C H Lee, commanding Com Z, speaks of the 20,000 troops total who will go to Army University #2, in Biarritz, France, as part of the million and half soldiers in the ETO who will have an opportunity for schooling to help them ease back into civilian life. (Units throughout the Theater would be setting up their own schools, although not at the university level.)

Students in the Department of journalism had put this paper together. Each of the students in one class submitted an assigned 500 word story and no-one failed to mention that the only required formation would be reveille! However, I can't find any statement about the number of instructors reassigned from their military duties in the ETO as compared to civilian instructors recruited during the two months immediately before the opening of Alma Mater. The civilians wore uniforms and carried simulated rank. Three enlisted men with PhD's had the simulated rank of Warrant Officers, according to a September issue of Yank magazine, British edition. They wore white cloth bars on their shoulders. I think I would have saluted them if I'd ever seen them. After all, we were expected to continue of observe military courtesy, and the Army always told us we salute the uniform. (The civilian faculty, simulated company and field grade officers, asked staff to teach them how to return salutes!)

We were expected to take no more than three classes and most signed up for the max. Yank reported that the most popular sections were Liberal Art and Commerce. Languages were big in Liberal Arts: German, French, Russian, and Italian. All practical for people who anticipated remaining in Europe for awhile. The Post reported that a good number oaf GI's enrolled in Commerce classes were interested in opening a small business when they went home. The old joke about being your own boss when you got out of the service? The teacher of speech couldn't figure out why so many signed off for his classes; he soon learned that they wanted to talk about their war experiences, which they did with emotion and clarity. I took Advanced Composition for the same reason. (Looking to the future, I also enrolled in a couple of Education classes. The Post ran a picture of several students listening closely in a barnyard to a local farmer explaining his methods with Ayrshire stock. The faculty in general was impressed with the seriousness and commitment of the student body, even though many professors had had initial misgivings. (Some of the same recognition occurred when the students under the GI Bill hit the Stateside Colleges and Universities.)

The Shrivenham Post had most of the regular features of an ordinary newspaper, except no comic strips. Social Notes: Friday night dances would be held; better transportation coming to nearby Swindon, the railroad hub where we'd get out weekend trains to London, the seashore, and points North, South, East and West; USO shows, etc. Cultural notes: excursions to Stonehenge, Shakespeare plays at Stratford-on Avon. etc.

Curiosities: A total of 104 souvenir weapons on post, according to the Provost Marshall; those in his keeping to be returned when the owners went back to their outfits. Mainly German Lugers and P-38s, but including two German dress Sabers. Special notes of greeting and encouragement from the Boss and his Boss; General Eisenhower and President Truman. And of course, the Sports Section! Celebrities coaching or playing on the post baseball team; a challenge to Biarritz's team; a story about the wonderful sports equipment AUC has just for the asking.

One story mentioned that we expected to devote four hours a week to athletic endeavors. I don't remember working up a sweat on campus. But I ran into another ex-LACC ASTPer named Jo Saxe from Germantown, PA and Division HQ Company. Jo and I found our way to Oxford, where we borrowed loosely strung tennis rackets and pre-war (pre-Crimean War) tennis balls which we chased back and forth in our combat boots I what I remember as a grassy court, but probably was hard-surfaced. Later, Wimbledon-style, we took two charming young ladies to high tea.

Oh yes, there was one short paragraph entitled "Deadly Atomic Bomb Hits Japan" on page one of the Post. It went on, "the War Department has announced that its first atomic bomb, equal in power to the load of 1000 Super fortresses, was dropped Sunday [August seventh, Japanese time] on Hiroshima…" a Japanese POE. Inside was a continuation of the story and a number of others, under the headings: "Japs Silent on Atomic Bomb: Terrific Damage Indicated"; "Test Bomb's Blast Felt for 250 miles"; "OWI to Beam Bomb Facts to Japs"; "Peace-time Possibilities Foreseen for Atomic Bomb"; U.S., Britain Control Sources of Uranium"; etc. Back on page 1; :Bomb May End Wars "Atom Smasher' Says. My September 15 Yank magazine tells the story of the "Enola Gay" which dropped the bomb, and has a several page article on just what atomic physics and the bomb are all about. Like many others, I think I did not fully appreciate the significance until some time later.

When I got back to Lucky Strike at the end of September I learned that some H Company's low pointers had gone home on 30 days leave. I understood later that they were aall discharged. Maybe because there already were a lot of low pointers in the Pacific ready to take on the temporary occupation of Japan. It was a roll of the dice. I was almost ready to take the 40-and-8 freight care into southernmost Germany and Austria.


Looking for info on T/Sgt John H Barnhart

The online website of the 89th 354th Co C. records my Grandfathers last moments. - Thank you very much!

April 7th 1945 - Central Europe.

/memories/354_19.htm

T/Sgt. John H. Barnhart, C's weapons platoon sergeant, was out in the field reconnoitering for a spot to set up his machine guns. Someone warned him to take cover. "Those bastards will never get me." Barnhart called back. An instant later a round from a burp gun hit him between the eyes.

We (My father BJ and I) had always wondered what had happened to my Grandfather. We knew he had suffered a GSW to the head according to his military records and his half brother Floyd who is still living at age 94 confirmed this for us as he explained that he had to identify my grandfather and 3 different occasions before he was finally buried in the Netherlands.

What we don't have are any personal stories about him or the action that Co. C was involved in or any after action reports.

Where could we find those?

Where could we find any more information on how and when my Grandfather John became the TSgt. and weapons platoon sergeant?

Best Regards
John Barnhart
j.barnhart5@verizon.net
[Anyone who know TSgt. Barnhart, please contact John!]


Looking for the family of Ernest Bjorye at the request of my neighbor.

The following is all the information I have.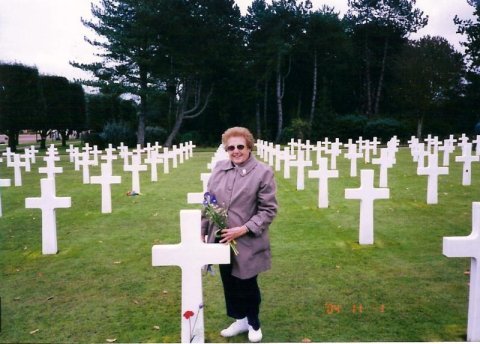 Mrs. Olson at Normandy


I, Ruth Mary Olson of Edgerton, Wisconsin visited here and placed flowers on his grave. I took several pictures and would gladly send some copies to you if you would desire them.

Sincerely,
Ruth Mary Olson

Normandy, France American Cemetery
Plot A Row 10 Grave 22
Name - Bjorye Ernest State Minnesota
Unit 341 Artillery Battalion 89 Div.
Rank Private First Class
Decoration PH
Date of death 11/9/45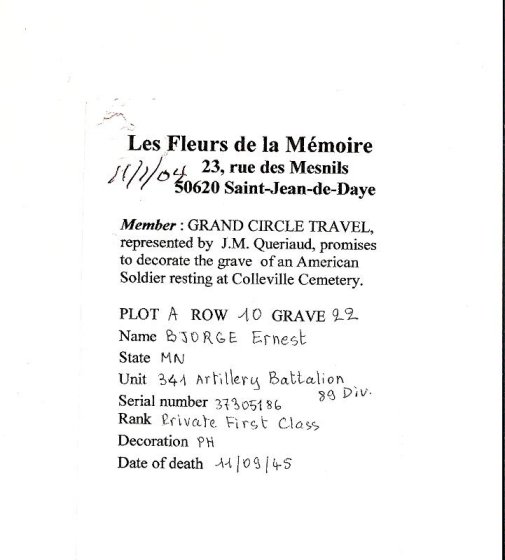 Grave Information


I thank you in advance for any leads you can give me. I have been unable to locate anybody. Sheri Lund

ralund@ticon.net

[Sheri found his family by calling every Bjorye in Minnesota-Ed]


Info on James Carpenter

Hello, my name is Nancy and I am trying to find out about my brother-in-law. He told me he was in the 89th Infantry division. 2nd Army in WW11 But I can't seem to find anything. Don't know if you could help me or not. His name is James Carpenter. Thank you for your time. Sincerely, Nancy

email: casper19007@yahoo.com


Looking for Comrades of Wilford Lowell Green From Bud Green: fw190bg@yahoo.com

Hi,

My dad served in the 89th in ww2. His name is Wilford Lowell Green. Dad wouldn't talk much at all about his time in war. I've been trying to find a roster, an history, etc. Or even if there is anyone that served with my dad that could give me some insight. Also on how to obtain his military record.Dad pasted on in 2000.I have found the sight that had this email, but still looking for more. I had a photo an his medals , but lost those in a house fire a few years ago. Any help would be appreciated. Thank you for your time.

Bud A. Green


Allen R. Bowden, 353rd, Co L

From Lynn B. Morgan: lmorgan@dot.state.nc.us Dear Mark Kitchell,

While gathering information on my late father, I noticed my father's friend Charles Wilson Mills. If this is the same Wilson Mills, he passed away sometime in 1999. My father kept in touch with him until he died.

My father, Allen R. Bowden passed away Feb. 13, 2000 at the age of 79. He was in the 89th Infantry, 353rd Company L. I am gathering what information I can to leave for my nephews. If you have any information please let me know. As many others I wish I started searching years ago.

Sincerely,

Lynn B. Morgan


Hobart Kendall From: Hobert Kendall kyrifle@ccrtc.com

Hello, I am Howard Kendall nephew of Hobert Kendall who was in the 89th. and killed crossing the Rhine on 26th of March 1945. My family never would talk about this but now since they are all gone I would like to see if I can get any information on his unit . I was just given Hobert's personnel items yesterday and now I would like to find out information so I can put the puzzle together. Where do I find out what Company he was in? Is there anyone left living who knew him? Where can I look? Thank you for any information you can provide and Merry Christmas. Sincerely, Howard

[Editor: I found an H. Kendall who was in Company C of the 354th Infantry Regiment of the 89th Division. Do you think this could be him?]


Delore (Del) M. Webb From: opala@olypen.com

Dear Sir,

I am trying to get information about my dad's service during WW II. I believe he was in the 89th Division's signal company. When I was a kid he would show me his sergeants stripes, his rolling W patch and his morse code key that he kept. I remember that he had a bound book that had pictures, history, and stories from boot camp to the end of the war. Unfortunately all of that memorabilia was lost. I would be interested in getting any info I could and hopefully any pictures that might be available. My father's name was Delore (Del) M. Webb. Any help you could give would be appreciated. Thank you so very much.

Michael S. Webb


Brigadier General John T. BissellFrom Major Tonie Holt: battlefields@guide-books.co.u

Dear Raymond

We found your site very helpful. Thankyou for it. Can you tell us if the Brigadier General John T Bissell the Artillery Commander in 1945 is the same Bissell that was at the battle of Chateau Thierry in 1918 as a Lt?

We are writing about the battle - see our web site www.guide-books.co.uk

Thankyou

Major Tonie Holt


Albert HaeringFrom Linda Haering: haering@mcn.org

My father was in the 89th, Rhineland, as a MP. I remember the rolling Wbadge in his dresser drawer and other medals. Even a few photos takenin Germany of dp's, nazi sysmbols, etc. I am wondering if there isanywhere a complete list of the men associated with this campaign?

As so often is the case, I have only got interested in WW2 as I myselfgot older and after my father died.

Thank you,

Linda Haering

[If anyone knew Albert, please let us know: Mark]


Hobert Kendall From Howard Kendall: kyrifle@ccrtc.com>

Hello, I am Howard Kendall nephew of Hobert Kendall who was in the 89th. and was killed crossing the Rhine on 26th of March 1945. My family never would talk about this but now since they are all gone I would like to see if I can get any information on his unit. I was just given Hobert's personal items yesterday and now I would like to find out information so I can put the puzzle together. Where do I find out what Company he was in? Is there anyone left living who knew him?

Sincerely, Howard

[From Mark Kitchell: I found an H. Kendall who was in Company C of the 354th Infantry Regiment of the 89th Division. Do you think this could be him?]

Hello Mark,

Thank you for contacting me. I'm glad you responded. I was hoping you would contact me. I didn't want to be pushy for information as I figured you were covered up during the holidays. It would have to be him. I think he was the only H. Kendall in the bunch. Do you have any information on him?

Sincerely, Howard

[From Mark: Sadly that is all I have. My Dad is the veteran, but also remember that the division was huge. Most of the current remaining vets are getting old too. But who knows, someone may know him as I will put our exchange in the latest email newsletter.

If its ok, I will put you on our email list under his name and your address.

Mark]

Howard responded: Mark,

Please do post my name and information. I would love to hear from anyone who even remotely knew him. I will appreciate this very much. I do realize that it almost to late in life for contacting anyone. For years I tried to track down anyone who knew him and have come against a hard wall every time. At this point in life I know I'm just grabbing straws.




Return to top