January-February 2004 Newsletter
For all veterans, relatives and friends of the
89th INFANTRY DIVISION
WORLD WAR II



WWI-era 89th Infantry Division Banner

Table of Contents: Click on the Link Below to Go To That Section:
Announcements and Editor's Notes
Society Announcements
Website Developments
Taps
Letters and Exchanges


Return to top

Announcements, Editor's Notes and Website Developments

Editor's Notes

Your co-webmasters are pleased when we can answer your questions directly or, more likely, refer you to a source. The principal rationale for the newsletter is to help vets, relatives, friends, and other legitimate parties connect. If you peruse our website at www.89infdivww2.org, you will find an archive of previous newsletters that may help and we have recently installed a search engine. In turn, we ask the following of you. When the volume of stories for a particular issue increases, unfortunately my ability to make mistakes and mislay copy increases proportionally. If I did not include your request/story/name, let me know promptly and we'll try to correct it in the next Newsletter, or earlier; if urgent, in a special message to all on our email list.

In turn, we ask the following from you. My son, Mark, is always willing to assist when he can, but it's preferable that you approach me about routine requests. If you wish, copy it to Mark. Generally he handles the Website per se and I handle the paper work, including the Newsletter. The problem is I am getting older. Mark's time is of course limited since he has a full-time professional career, and also was recently married. The volume of requests is increasing which, of course, pleases us all. It has forced me to draft family members to help. Mark puts our copy on the internet, of course. But now my daughter Melinda Malico is helping me with the sorting problems and my wife, Mary Ellen, is an excellent proof reader. I apologize if I mixed up some of your emails. It won't happen in the future, Insalla.

Finally, it would help us very much if, when emailing us, you include the following background information if available:

1. The veterans full name and 89th unit, e.g., regiment, battalion, company.
2 Any previous exchanges with us on the subject (very important).
3. Whether the vet is still with us. If not, do you wish us to keep his name on our email list, marked "deceased", in care (c/o) of your name and email address?
4. Other relevant background.

Thank you. Co-webmasters

Our email lists are available at any time upon email request to the Editor.

Request for Old TRW Stories

Did you write or read a story for the TRW which needs to be added to our website, given its special focus. We have the TRW copies of 1982-1992 and if it's there, please let us know the issue and page(s). The same goes for 1993 and onward.

Request for a History of the Artillery

There is a big hole in our written history regarding the strategic and battle contributions of our Field Artillery units. I sent the following emails to Gerry Bowers, DivArty Org Rep, in the hope he might take on the job.

If anyone is interested in writing a history of the Field Artillery in the 89th, please contact us.

I hope someone can or is acting on my suggestions for a Story on the 341st, especially B Battery. Any progress? Anything being planned and can we help? We don't have many artillery stories on line and time is short. Please let me hear from you. Best wishes, Scotty

PS Gerry I just noticed you are the Org Rep for 563rd. What we need, it seems to me, is someone who is willing to be the point man for all our Artillery Battalions. What do you think?

Coming from nowhere my request was a bit of a shock and one's first reaction, quite naturally is how do. I get out of this. I followed Gerry first cautious reaction with the following:

Dear Gerry:

We can't give up!!! We can't just permit the infantry regiments to portray their individual histories and be our only reference point for future readers. Certainly Phil McAuliffe, Bob Anderson, Bill Scudder, and others can contribute, even take the lead, and using our newsletters, address book, etc, we might be able to encourage some other stories e.g., some worth being considered might be in past issues of the TRW which we are unaware of. I shouldn't think it would take too much effort to do this even if, unfortunately, it would primarily be limited to those using a computer or with access to it. I would do the job myself but I am already overwhelmed in 89th activities. Even so, I could assist in editing once something got going.

A starting point, it seems to me, would be for you to identify people you know in the four artillery battalions and lay out some guidance while requesting inputs. Use our email address list to find vets who are still with us. Once you get started, it can be fun and you'll be proud of getting the 89th Artillery History on line for future readers, scholars, etc. Size, i.e., length of copy and number of photos, will not be a problem.

What do you say? Give it a try! As a co-webmaster of the 89th website and Artillery man myself, I can give you plenty of support ---but someone has to start the ball roiling. By using this approach you may end up with a lot of loose-end stories. I would be willing to act as a proofreader and editor of the copy you put together, OK? There's no rush, except the constantly diminishing membership, but it would be nice to have it for the August reunion. Come on Gerry, take the reins. You'll not regret it. We'll help you in any way we can.

Best wishes, Scotty

Dear Gerry:

In answer to your very legitimate questions here's the latest listing of ORs and (Assistant) AORs. The latest email list, which may also be helpful to you, is also attached. As soon as our new TRW Editor settles in, I will send them to her for publication in the next TRW (unfortunately almost three months from now).

At the same time my son Mark and I (co-webmasters of the 89th Website) are primarily concerned with the present and future, i.e. making our history readable and available worldwide now and for the indefinite future. As a former artillery man myself, first in the 775th Tank Destroyers Bn and then with the 89th's 340th and 563rd FA Battalions-where, to my distress, I ended up as a truck driver, I am extremely interested in an integrated story on the role of 89th artillery during the war. What I am saying is that, in my opinion, our website history will not be complete until a comprehensive story on the role of artillery is provided, covering the beginning and the end, and an analysis of its impact on 89th achievements overall. Someone like yourself is needed to get the project started and managed, e.g., define the purpose, request collaborators., collect and analyze relevant communications and documents, interview prime targets, etc. When an outline of such an effort is established, I am certain there are many inputs which could be easily provided and Mark and I stand willing to help.

In the past, the Society has been reluctant to finance/encourage such efforts for reasons I do not understand but I think attitudes may be changing. Please, give this a good think and get back to me and Mark. Look forward to seeing you at the next reunion in my home town and hearing from you soon. I hope you will be there. It will a good opportunity to get some help, You also might find some suitable material in the Division History book.



Return to top

Society Announcements


February 12, 2004

Dear Fellow Members of the Society,

The past several months have been momentous ones for us, with major changes in the leadership and management of our organization. During that time and as you are already aware, we lost long-time members and the vital services of Larry Berg, our Secretary-Treasurer, and shortly thereafter Sam Moorhead, 2nd Vice President (Programs). Soon after, the Editor of the Rolling W, Mary Brunner, unfortunately was forced for health reasons to relinquish those responsibilities. Now I must announce with regret that Larry's widow and inseparable collaborator on Society affairs, Marge, has informed me of her resignation as Assistant Secretary/Treasurer.

Fortunately, we have been able to replace those dedicated servants with very capable persons almost immediately so that the functions at risk are or will be functioning with little interruption. Again, as you are aware, Elmer "Herb" Herbaly stepped forward to succeed Larry Berg and Louis "Chick" Cecchini, resumed Sam Moorhead's position, which he had handled so capably for many years. Delores L. Wilkerson, a friend who had worked with Mary Brunner, is already at work as Mary's successor as Editor and had just been recruited to undertake most of Marge Berg's responsibilities as well as the title "Office Manager" for the Society.

You will note enclosed in this letter an envelope with Delores Wilkerson's name and address imprinted on it. This is to be used for payment of year 2004 dues, replacing the envelope in the December 2003 Rolling W addressed to Marge Berg. For those of you who have not yet forwarded that $30.00, please do so as promptly as possible using the new envelop. Also, for the moment, until further notice, no orders will be accepted for purchase of 89th items advertised is each issue of the Rolling W.

No communication at this time would be complete without speaking of the coming reunion here in Washington. With no exaggeration, this promises to be one of the most interesting and spectacular gatherings in the Society's history. Dick Lee, and his excellent connections with the Army, together with Cecchini, Bill Scudder and John Sherman, have secured the participation of major military units enhancing some of our usual reunion functions. Additionally, plans are in development for visits to the new World War II Memorial and Holocaust Museum. Keep in mind as well, depending of the decision of the membership at the business meeting, this might be our last formal reunion-our last "hurrah". So your attendance, for those who participate, represents a major opportunity in numerous ways, especially concerning the future of the Society.

If questions arise, please don't hesitate to query any of the Society officers (names, addresses and contact numbers are listed in the December Rolling W). I look forward to seeing you here at reunion time.

Sincerely yours,

Carl L. Peterson
President


Reunion 2004 Update and Reminder

WHEN: Monday, 30 August through Saturday, September 4, 2004

WHERE: Washington, D.C. Metropolitan Area

HOTEL: Doubletree Hotel, Crystal City (Across from the Pentagon. We're much impressed with the Hotel, plus their several fine restaurants!)

LOCAL COMMITTEE:

Chairman, Dick Lee
Assist. Chairman, "Chick" Cecchini
Members: Phil McAuliffe, Bill Scudder John Sherman

DATES: The Program will run from Tuesday, 31 August thru Saturday, 4 September, 2004. This could run longer if you choose to do some early or late sightseeing, a personal touring or visiting.

COST: It's too early to know what the registration fee will be. We do know that we'll be using buses for at least two trips and maybe three times more than for a typical reunion. For that reason, the cost will be higher than with the usual only one bus use.

GENERAL PLAN: Due to the wonderful military resources available to us in Washington, D.C. area we have decided to tap as much of it as we can to make this 2004 Reunion a truly memorable experience. This at a time which may, for many of us, well be the last our health and other circumstances will allow us to gather.

First of all, we realize that the sightseeing opportunities in the Nation's Capitol are without equal. Should you want to do some sightseeing we've made arrangements with the hotel to accept reservations for 3 days before Monday, August 30th and 3 days after Sunday, September 5, 2004.

The Reunion rate is $89 a night for 2 persons, plus tax (currently 9.75%). This arrangement is not To exceed 10 rooms each of the days before and after.

We alerted our Armed Forces Reunion, Inc. to offer a package of attractive tours for those of you who want to take this great opportunity to see those special places you may have missed over the years or are new. Notably among the new is the Franklin D. Roosevelt Memorial There are always the many wonderful Art Museums, various Smithsonian Museums, National Cathedral, National Shrine, National Archives, etc. If you don't have any special place to concentrate on but want a sort of panoramic tour, there is the very convenient bus (looks like an open trolley) to take you to a the sightseeing places. It lets you get off to look around as long as you want. Then you can get on another to continue the tour, all day if you wish.

Most important, though, we've put together a program for Wednesday, September 1 through Saturday, September 5, featuring the SILENT DRILL TEAM and the FIFE and DRUM Corps of the 3rd Infantry (The Old Guard) on September 1st. We plan a group visit to the Holocaust Museum on Thursday, September 2nd. On Friday, September 3rd, the ARMY BAND has agreed to entertain at the separate luncheons following the Membership Meeting. Their Strolling Strings play during the Ladies' Luncheon. The Men's Chorale will be singing about a half-hour during the Men's Luncheon.

For our special MEMORIAL SERVICE Saturday morning, we have been promised the use of the AMPHITHEATER of the TOMB OF THE UNKNOWN at Arlington National Cemetery for the first part of our observance…the reading of the names of our recent dead, organization by organization. Following, the widows present will lay their traditional rose. During this part of the ceremony, THE COLOR GUARD of the 3rd INFANTRY will stand in place. Following, the first part of our Memorial Ceremony, we then move to the front of the building to continue by laying a wreath at the TOMB of the UNKNOWN. For this second part of the ceremony, we've been promised the extraordinary privilege comparable to that usually provided only when the President or Head of State lays a wreath at the Tomb of the Unknown. The Army Band, Two Platoons of the 3rd Infantry, and Tomb Guard will participate in our wreath laying.

For our Saturday Evening Banquet, the Army Band's Men's Chorale will entertain again. Still in The planning stage, though not yet arranged, we hope to offer a trip to visit the NATIONAL WWII MEMORIAL, scheduled to be completed and dedicated in the Spring of 2004.

Oh, yes, the HOSPITALITY ROOM The Doubletree Hotel has a super attractive, large room perfect for hospitality room purposes. It is up high with many windows offering a beautiful view of Washington. We have been promised this room. We'll have a cozy, single place for all attending the Reunion.

So vets of the 89th, wives, widows, all who can...set aside the date now! This will be a grand affair.



Return to top



Website Developments

We have been busy on the website during the past few months. We have added a search engine to the website. This will allow our users to quickly find any mentions of the specific veteran they are looking for. Bob Samuels has painstakingly copied the entire (available) roster of the 89th. Once we have that list online, the search engine will be linked to it. The search engine can be found here: Home Page/Search Engine.>>

We have also added a fascinating unit history this month. The 602nd Tank Destroyer Battalion was attached to the 89th for a time. Their unit history can be found here:

602nd TD History

A number of new personal stories are online. One I would like to point out is from John Sherman about the 89th Division's Artillery HQ at Chateau Limsey. Please read about it here:

Chateau Limsey



Return to top



Taps

It is always sad for us to report the death of an 89th veteran. However, this obituary is particularly sad since Earl was a good friend of the Kitchell family. We established a friendship with him and his sons Tim and Tom during the Remembrance Tour. We recently visited the Oots in Syracuse and had a grand time.

Mr. Oot was a fine man, a good father and a remarkable soldier. My (Mark's) most distinct memory of the Remembrance Tour was at the American Cemetary in Luxemburg. Mr. Oot was in tears over the grave of one his men. He still remembered the moment of the man's death and was distraught to lose a soldier in his platoon. RIP

Earl L. Oot

January 14, 2004 Earl L. Oot, 82, a life resident of the Town of Manlius, died Wednesday, at St. Joseph's Hospital. Born in Minoa, he was a graduate of Minoa High School, Syracuse University, and Syracuse University College of Law in 1947. He was admitted to practice in New York in 1947, Federal District Court, 1959, and the U.S. Supreme Court in 1997.

He began the practice of law in 1947 with Albert Oot & Son. Over the next 50 years as an attorney he was a partner in the firms of Oot, Oot & Moore; Oot, Greene, Setright, Hershdorfer & Sharpe; Oot, Setright & Ciabotti; and most recently retired from Oot Law Offices, PLLC. As an attorney he represented numerous banks and mortgage companies, buyers and sellers, and concentrated a great portion of his law practice on real estate development.

He was the founder and President of Oot Bros. Inc. until the mid-1990s. As a real estate developer and attorney he (along with his brothers, Leo (deceased), Donald (deceased) and Robert) constructed over 9,000 homes in developments including: Erie Village, Fremont Meadows, Fremont Hills, Oot Meadows, Canterbury Woods, Oot Park, Longmeadow, Fremont Manor, Pompton Knolls, Reis Terrace, Olde Mill Apartments, Edgerton Estates, and projects including Medical Center East, and the Links at Erie Village. He was active on the Executive Committee of the Infrastructure of Onondaga County, a former member of the Onondaga County Judiciary Committee, a former member of the Home Builders of CNY, and a member of the American Bar Association, NYS Bar Association and Onondaga County Bar Association. He was a communicant of Immaculate Conception Church, Fayetteville, and served as Trustee and Church attorney for many years. He was instrumental in the acquisition of the Church property and the subsequent building of the current Church. He was a member of the Syra-Canadian Fishing Club and enjoyed spending time at his home on Wellesley Island during the summers. He was an avid fisherman and outdoorsman.

He served in World War II, in the 89th division of the Army, under General Patton as a Rifle Platoon Leader in France and Germany where he received several citations and achieved the rank of Captain. He was awarded the Bronze Star Medal two times, the American Campaign Medal, the European African Eastern Campaign Medal, WWII Victory Medal, Battle Stars for Rhineland and Central Europe. He crossed the Rhine at St. Goar under heavy German resistance and later helped to liberate the Ohrdruf Concentration Camp in East Germany. He had recently toured the WWII route the 89th division had taken with his two sons, Tom and Tim.

Survivors: his wife of 54 years, Maurita Hayes Oot; two daughters, Attorney Suzanne E. Oot of Manlius and Kristen M. Oot (Skip Kenny) of East Syracuse; two sons, Thomas M. Oot of Manlius and Timothy J. Oot (Susan A. Oot) of Manlius; three sisters, Lillian Heffron of Minoa, Marjorie Flett of Kirkville, and Mary Holl of DeRuyter; one surviving brother, Robert V. Oot of Kirkville; 14 grandchildren; and one great-granddaughter.

Contributions: Francis House, 108 Michaels Ave., Syracuse, NY 13208 or Food Bank of CNY, 6970 Schuyler Rd., East Syracuse, NY 13057. EATON-TUBBS-SCHEPP Fayetteville 637-3214

Published in the Syracuse Post Standard on 1/15/2004.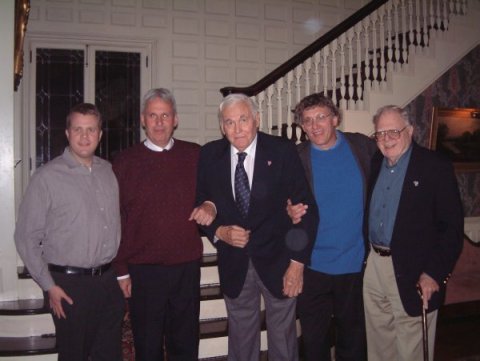 The Oots and the Kitchells at the Brewster Inn, Syracuse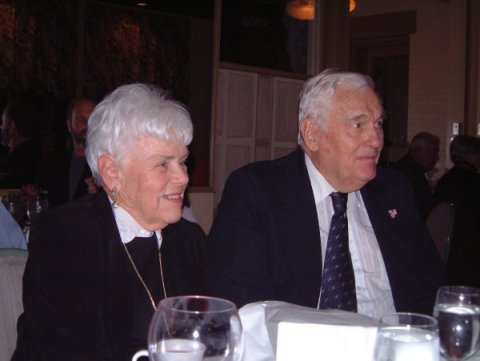 Mr. and Mrs. Oot

Ernest S. Easterly

Ernest S. Easterly, Jr., a veteran of the 89th Infantry Division, died on 31 January 2004, at Baton Rouge, Louisiana. He was buried in Denham Springs Memorial Cemetery, Denham Springs, Louisiana.

With regards,

Ernest S. Easterly, III
Easterly3@aol.com
RIP

Sergeant (T4) JESSE L. KELLEY, SERVICE CO 354TH INF. 89TH INF DIV. 1944 - 1945

Jan. 19, 2003: I received a phone call from Margie Kelley, advising me that her husband, Jesse L Kelley passed away Jan. 13, 2004, at the age of 83. In Eastover, South Carolina. He never drank, or cussed, and theirs was a good marriage all through the 61 years and four months of their marriage. He had been bothered with arthritis and suffering from emphysema for several years. Jesse was feeling good a few before Christmas, gathered and cut wood on a sunny afternoon. Shortly after Christmas he awoke and told Margie to take him to the Hospital. They did emergency work draining his lungs, but his condition continued deteriorating. Jesse is survived by his wife, Margie, two daughters and a grand daughter. As a member of McCloud United Methodist Church he served as Sunday School Superintendent and Men's Class teacher, and served on the official board for 40 years. He is survived by his wife, Margie Kelley, 1200 Chain Gang Road, Eastover, SC, 29044, two daughters and a granddaughter.

Kelley's first job on arriving home from the war was running a sawmill in South Carolina jointly with an uncle. Later, he became a welder (for 40 years before retiring) working on heavy road machinery and later welding stainless steel. He loved working with stainless steel and applied its uses even within their home.

Many of the regiment, battalion, and company vehicle drivers and mechanics will remember Kelley for his assisting them with lubrication service and training, especially in Camp Butner and during combat with first and second echelon maintenance. He was always jovial and pleasant. He had participated in the Louisiana and Hunter Ligget maneuvers, and shared stories with many of them. Every member of Service Company will remember him for his wonderful South Carolina accent and clear voice that was still recognizable as the same over the phone after 60 years. I have kept in contact with Jesse Kelley ever since getting his address from The Rolling W Roster in 1989. I am honored to have served with Jesse through combat and retaining him as a respected friend since. Jesse drove the ¾ ton Dodge 4x4 service truck with pedestal mounted 50 machine which accompanied the wrecker at the end of convoys through Europe. It was stationed on the bank of the Rhein while we waited for the Combat Engineers to complete the pontoon bridge under sporadic mortar fire.

I have many times since referred to this vehicle as "Kelley's War Wagon". That machine gun was fired at the only German Jet plane we encountered. It was strafing the Autobahn, we had just turned off on a perpendicular black top road when we saw the jet over the big road, it then looped around and lined up with our convoy. We, the riding personnel, jumped out and ran clear of the ditches and into the field for safety as trained to do. I do not recall who was firing the machine guns on the wrecker and Kelley's truck, but they were spraying lead into the air above the convoy to be there when the jet flew by, -- as we were trained to do. I think all personnel fired their M1's into the air in a like manner, for the muzzle covers of many of them had blossomed white.

Submitted by James O Hahs, Service Co 354 Inf. 89th Div. 1944 - 1945

Return to top



Letters and Exchanges

[If you sent a message intended for publication in our Newletters but does not appear in the next issue, please inform me and we will check it out.]

Invitation to a Memorial for the REIMAHG Victims from Sgt. Patrick Brion, Belgian Army: PatrickBrion@hotmail.com

INVITATION

For the memorial activities of the REIMAHG Victims

You are kindly invited to the memorial for the victims of the REIMAHG.

The first commemoration takes place on Friday, 07th May 2004 at 1400 o'clock on the Walpersberg.

On Friday evening, 07th May at 1900 o'clock there is also for the first time a festivity where former forced labourers, their family and friends, and the local German population will meet. This is with a cold & hot buffet, for the price of 12 Euro per person.

On Saturday, the 08th May 2004 there are several commemorations in and around Kahla. The commemoration starts at the Leubengrund Monument at 0900 o'clock.

At 1300 o'clock there is a "Standing Lunch" in the Rosengarten auditorium for 9 Euro per person.

We would kindly ask you, to confirm your presence with the letter in annex.

The meals are to be paid at the same day inside the Rosengarten auditorium.

We would be very happy to welcome you to this commemoration.

With kind regards,
On behalf of the REIMAHG e.V. association, Patrick Brion

Confirmation

Name:
First name:
Location:

( ) will be present at the commemoration at the Walpersberg the 07th May 2004.

( ) will be present at the Rosengarten auditorium (evening) 07th May 2004, with ( ) Persons.

( ) will be present at the Standing Lunch on 08th May 2004, with ( ) Persons.

( ) I will not participate at the commemoration.

You can send the answer back through the following means :

By Fax :
To Mr. Patrick Brion, Fax number + 32 2 755 6131

By E-mail :
PatrickBrion@hotmail.com or Patrick.Brion@mil.be

SteffiFreyer@hotmail.com

By Mail :
Frau Steffi Freyer
REIMAHG e.V.
Friedensstrasse 14
D - 07768 KAHLA
 

Inquiry about Jason Martin from Tommy Buchanan: derekb808@prodigy.net

My name is Tommy Buchanan I am a veteran of World War II and belonged to the 89th infantry division 355th anti-tank company. I spent some time at Camp Lucky Strike and I would be interested in finding some of my comrades.

I'd like to contact Lt. Jason Martin who was originally from Indiana.


Combat: A Passing Fad? from James O Hahs:jameso@midwest.net

During the 89th Division campaign through Germany there was a short time while the tank corps working closely with front line infantry, passed, in a column, through our area (Sv Co 354 Inf, which was usually from 2 to 10 miles from the front) and the exposed personnel were all wearing silk top hats. I found a collapsible one, a perfect fit for me. Someone took my picture during a lull in our duties. The hat got damaged before I left for home.

About a week later the tankers came through wearing colored scarves which flowed in the breeze like that of Snoopy as The Red Baron in Schultz' comic strip. Later some of the Infantry boys riding the tanks were wearing infantry blue scarves in a like manner. Several years later the 101st Infantry boys adapted the scarf to their class A uniform. I thought it was a great mark of pride and looked great.This long lost snapshot is the only photo I have of myself during combat. Do any of you other troopers recall this fad?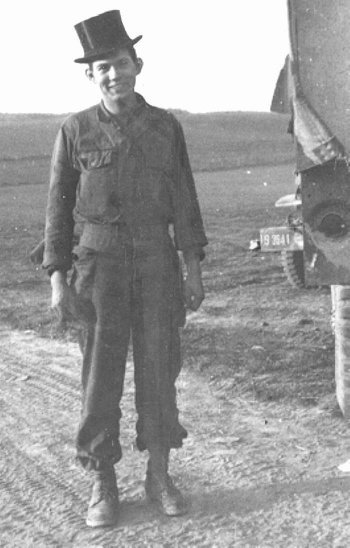 PS. This Private also experienced an evening Chow consisting of wieners and beans with the added beverage of Champagne in the canteen cup on the Saturday preceding Easter 1945. The beverage was special issue courtesy of General Finley's empting a warehouse for use as storage for the line troops duffel being transported across the Rhein. This issue should open up a whole new subject of stories from 89ers of WWII experiences.


Did You Know Harold E Nicholson of the 405th Quartermaster Copamy Patrick V. Stumler: zepheadpat@aol.com

My grandfather, Harold E. Nicholson served in the 405th Quartermaster Co. of the 89th infantry Division. He had a Tec 5 Grade and was a Pistol SS/Carbine Expert. He is deceased, but I would like to see if I can find anyone who recognizes his name or the pictures I have attached. In the first picture, my grandfather is the guy on the left with the cigarette dangling from mouth. His friend on left is either a C.R. Wilson, Cpl. or a G.G. Johnson, Pfc (I think it's Wilson). I am attaching a second picture of Wilson and Johnson together, his "two best buds" as the picture says on the back. Both men served with him in the 405th. If anyone recognizes my grandfather Harold, Wilson, or Johnson, I'd love to hear from them. I think everyone will really enjoy the pictures at any rate, as they really symbolize the brotherhood of those fighting men. Thanks, Patrick V. Stumler zepheadpat@aol.com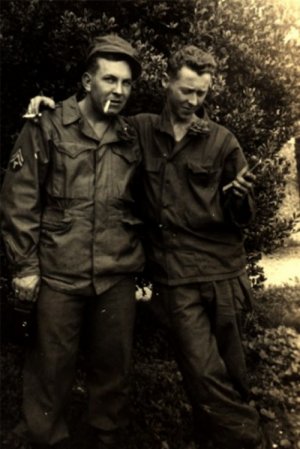 Harlod Nicholson (left) with either C.R. Wilson or G.G> Johnson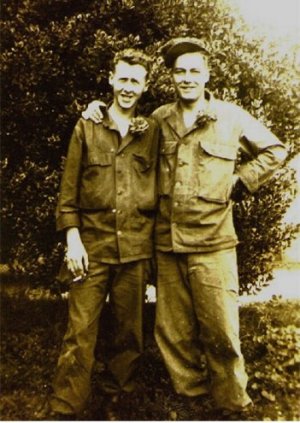 "Two Best Buds"




A Day In Paris (Comrades Found) from Sharon Reeves: Reeveshrlyrbl@aol.com

Hello. I would like to thank you for posting the picture of my grandfather, James Duff, to your newsletter online. One of the men in the picture emailed me and remembers my grandfather. He was able to tell me the names of all the men in the photo. I would really like to find the other men too. If you have any information on them I would really appreciate it. He was also able to tell me when the photo was taken.

I gave him my grandfathers address and he wrote my grandfather at Christmas. You have no idea what this has meant to my grandfather. Although he is mentally fine, he has been recently put into a nursing home for health reasons. This was a tremendous blow to him since he has also been such an independent person. He was the one who taught me to hunt, fish, farm, etc. He was always a very active person while I was growing up but a stroke a few years ago has taken its toll. For as long as I can remember, he has talked very fondly of the men he served with and has longed to speak with them again. He holds his pictures from the service dear. He was so happy that I had found one of the men he served with that he started crying. He is still talking about the letter he received from Mr. Gronlund. He keeps it in his dresser drawer and shares it with everybody who visits. He talks about getting his strength back so that he can get back out of the nursing home and try to visit him. He was put in after having a severe case of the flu so it is possible that he will get out if he works hard at getting better. He has been in the nursing home before and gotten well enough to go home. We had begun to think he had given up this time. This has given him a renewed strength.

I have enclosed a copy of Mr. Gronlund first email at the bottom of this email. It tells quite a lot about the photo that I am enclosing. I have been keeping in touch with Mr. Gronlund through email and plan to send him copies of the other photos I have.

Thank you for taking the time to care for my grandfather. You have know idea what this means to my entire family. My mother also told to tell that she dearly thanks you for giving her father the answer to his and her many prayers.

Sharon L. Reeves
hrlyrbl@aol.com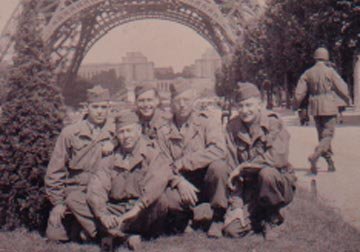 Left to Right Wright, Bob Gronlund, Holzaphel (sp?), James Duff (my grandfather) Sitting in front Platoon Sergeant Coburn/Colburn Note picture Squad Leader (?) Dunham Email from Bob Gronlund:

Dear Sharon, just got back from New Orleans were we visited D-Day Museum. Had 48 E-mails, most of them Spam. Imagine my surprise and delight when I reviewed 89th Inf. Newsletter on-line and found your request and my photo!!!! I am Bob Gronlund, was from Duluth, Minnesota. I had enlisted at 17 and was sent to Iowa State College in the Army Specialized Reserve Program in Sept. 1943. Then Basic Training in Camp Fannin, Tyler, Texas, the summer of 1944. After a furlough I joined the 89th at Camp Butner, Durham, NC in October 1944. We have lived in Minnesota, Iowa, California and Ohio but have been in Florida for 35 years.

Seeing photo of your grandfather I remember him. I think you are correct that Wright is the man on the far left. I am next to him in back. Next to me and next to your grandfather in back is, I think, Holzapfel (sp?). He was very funny I remember and a great kidder who could also take kidding well. He had a big nose and we kidded about that. I believe he is still living and is listed as a 89th Newsletter subscriber. The man sitting in front was our platoon sergeant. I am not sure of his name but think it was Coburn or Colburn or something like that. We had another sergeant, I think our squad leader who was named Dunham. He is not pictured.

We were all members of the same squad Anti-Tank Company, 353rd Infantry, 89th Division. After the war ended in Europe in May, 1945, we occupied a town in Germany for a while, pulling guard duty two hours on and four off around the clock.

We were then sent to France in June or so near Rouen to run a redeployment camp which consisted mostly of digging latrines and guard duty. After a while they allowed one day visits to Paris and it was on one of these that the photo was obviously taken. We left in a 2 1/2 ton truck at 6 a.m. Were in Paris by 8:30 a.m. Had the day free and did not have to return until midnight, getting back at 2:30 a.m. Then had the next day off.

Having had some college, I got the chance to attend Shrivenham American University in England in the fall of 1945. This was set up by the Army to keep high point soldiers busy while waiting for transport back home and discharge. But high point people were very wary and did not enroll so some of us who were younger, not married, and who had gone overseas later got to attend. After the term ended I was able to transfer to Special Services and served first at Shrivenham, then at Biarritz American U in France and finally in Information and Education near Frankfurt, Germany until going home in June, 1946 and being discharged. At any rate, because of Shrivenham etc. I lost touch with my 89th buddies.

I would love to have a copy of that photo if I could and will look at mine to see if I have any of your grandfather. Give him my best. I am in good health and am 77 and 1/2 years old. Bob Gronlund


Information Sought About Ben Stillwagon by family-- RWilson@cwlp.com

My wife's father, Ben Stillwagon, Jr., was only 8 days old when his father, Ben Stillwagon Sr., was killed by a sniper in France. We believe he was with the 89th Infantry at the time. Could you please help us find more information about him? Ben Stillwagon Jr. is still alive and would like to learn more about his father. Thank you Sir, Randy Wilson


Clubmobile Girls from Mary Read: LaBelleMlabelle@aol.com

Does anyone remember the American Red Cross Clubmobile girls that traveled with the 89th? I was Mary Read and my good friend was Lindsay Rand. We served coffee and do-nuts in the Lucky Strike cigarette staging area and were soon attached to the 89th; and with our Clubmobile followed the 89th Div. across Europe. Please don't forget us in your history of the division. General Eisenhower thought we were important, and if you can believe some of the pictures of GIs they thought we were important too. It was a wonderful experience traveling with the 89th all the way to the end. There were a couple of other girls who were assigned to the 89th, but Lindsay and I were there from the beginning.

Dear Mary,

Indeed we do remember and owe you and your associate's big time!!!. You were our saviors at Lucky Strike and thereafter. I am not sure what motivated your email at this late date but assume you may have pulled up our website www.89infdivww2.org . Great! My son, the 89th webmaster and his assistant (me), were very happy to receive your message. My reply/request is that, with whatever assistance you can get obtain from your colleagues, you provide us with your personal or unit story and/or syntheses including your other comrades. I guarantee that it will soon be on our website. Pictures are also welcome, particularly if your can send them as jpeg. Look forward to hearing from you.

Ray and Mark Kitchell


Looking for Sgt. Roland O. Baker From Doug Wilber: TBall4923@aol.com


Dear Raymond, The person looking for Sgt. Roland O. Baker is a woman whose name back in 1945 was Andree Royer. She is a great Grandmother now and has been looking for this Sgt. who visited her and her family for a few months before he returned to the states. She was 19 at the time and believes the Sgt. was around 22. She also thought he was from Texas. She was in your newsletter awhile back but thought the Sgt. was in ordnance instead of the Headquarters Company of the 89th. It's not much to go on but that's all I have for now.

Sincerely yours,

Doug Wilber

Sorry, find no one with that name but will post your inquiry in our February Newsletter. Doesn't look good. REK

What We Read Back Then: Mail and Other Stuff by Gerry Stearns, H Co 354th

Letters from home are always important. Nowadays troops in the field and even overseas have the advantage of e-mail, and whether incoming or outgoing, quicker than letters via the postal service. With the proper software, even photos of loved ones can be sent.via e-mail. During WW2 while the 89th was overseas we also had access to a mail service quicker than regular post office handling, and we called it V-mail. (Lots of symbolism: V stands for Victory; on the V-mail envelopes it reads "V...-Mail"; the 'dot, dot, dot, dash' is Morse Code for "V"; they also represent the first four notes of Beethoven's Fifth Symphony. Didn't wartime radio news open with those notes?)

The V-mail program, for servicemen in foreign lands and on ships at sea, began June 1942 and ran through November, 1946. If you remember '42, The Lend-Lease program of war supplies to our allies had the additional burden of supplies and reinforcements for our own overseas troops. There were heavy losses of shipping, especially in the Atlantic to German U-boats. Shipping space was at a premium and our government had to find a way to keep up the movement of supplies and maintain the necessary morale boost of letters from home. We adopted a system the British had developed during two and a half years of war to help their troops throughout the world and families to keep in touch more easily.

One of my (usual) Google sites gives an illustration : There are 150,000 "regular" letters. They weigh over a ton and a quarter distributed among 39 mail bags. Imagine how much space in a cargo hold they'll take up. Now imagine one mail bag of V-mail letters weighing 45 pounds. Something like 98% more space in that hold!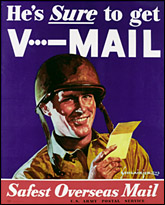 How did they do it? For one thing, a letter was restricted to a single page form about 8 1/2 by 11 inches, which included the folded-over edges which would turn it into its own envelope. There were detailed instructions. The government and the advertising industry did a lot of advertising to encourage civilians to go to their 5-and-10s (remember 5-and-10s?) or the post office to buy the forms. One industry ad showed a cargo plane flying the mail at "300 Miles an Hour". (Small type told the reader the ad was sponsored by the Hiram Walker distillery). Another ad told our families and friends that a V-mail from home would be like "...a five minute furlough." We got the forms free and could mail them home free. Our families would have to pay three cents ordinary mail or six cents airmail. But it took 12 days or less to deliver by air against six weeks at sea!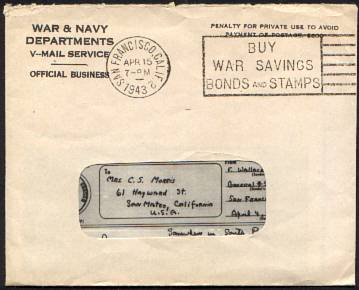 Until I did my research for this account I didn't realize that my V-mail letters probably did not go to the US exactly as I'd written them. I knew about our officers censoring them as they did other mail, either scissoring out No-Nos or inking them out. But then the heart of the system began beating: the original forms were microphotographed on 16 millimeter film, each to the size of a thumbnail. An industry ad explained that 1700 letters "could fit into a cigarette packet." (Some letters bypassed the system and the originals were delivered to their addressees, generally because of a breakdown in the equipment). Once the letters were on film the originals and the scissored cutouts were burned. Letters from the ETO went to New York, (from the Pacific Theater, to San Francisco), for enlarging and mailing in window envelopes to our families. The letters were now about one-quarter of the original size: 4 1/4 by 5 inches. I guess outgoing mail from the Zone of the Interior (Pentagon talk for the US) were processed the same way in New York. I don't think I got any V-mail because I don't remember window envelopes with the tell-tale "V...-Mail" on them.

Here's some "Other Stuff": I think I read Yank Magazine in the states as well as overseas. Stars and Stripes I only remember o'seas. Then there were the "pony" editions of civilian magazines, aimed for troops outside the US and probably distributed the same way we got Armed Services Editions. I do remember a New Yorker pony that had all the articles, stories and cartoons but was maybe only 5X7 inches, (my guess). It was much thinner than the civilian edition, too, because it carried no advertising. Google let me down about "pony editions ww2" but a Multnomah County, OR reference librarian found a copy of a Time Magazine dated March 26, 1945 for sale on E-bay which she said was listed as a "pony", so it wasn't just my imagination.

The most striking thing I read overseas was an inscription on a white-washed wall in a small town in Germany. It explained a crouched, menacing caped black figure stencilled just below it, a wide-brimmed black hat extending shoulder-wide. "Sssst," it said, "Der Feind hort mit." Translation: "Quiet, the enemy is listening!" The German equivalent of our "A slip of the lip will sink a ship," but more dramatic. I passed that wall several times that morning, and also a two-story brick outer wall of a burning building. Returning from my last errand that morning I had barely gone past the brick wall when it crashed down covering the entire street. Talk about your drama!





Return to top