November-December 2003 Newsletter




For all veterans, relatives and friends of the
89th INFANTRY DIVISION
WORLD WAR II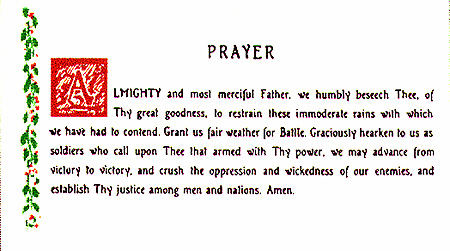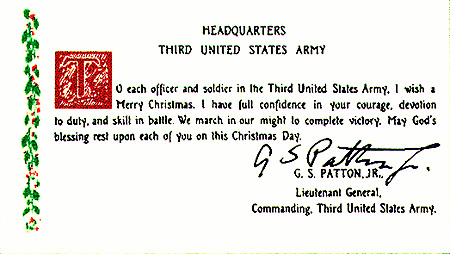 Christmas 1944 Message to the troops from Gen. George Patton

Table of Contents: Click on the Link Below to Go To That Section:
Announcements and Editor's Notes
Website Developments
Email List Update
Taps
Letters and Exchanges


Return to top

Announcements, Editor's Notes and Website Developments

Emergency Request

The 89th Division Society WWII is seeking the immediate appointment of a qualified individual to assume the post of Editor of the Society's triannual publication "The Rolling W". Our current editor, Mary Brunner, has been forced for reasons of health to relinquish that position following publication of the December, 2003 issue. The next issue is due out in April, 2004, and is of particular importance because of our next reunion, to be held in Washington, DC from late August to early September, 2004.

This a paid position, with the responsibility of receiving and preparing material for transmittal to the printer. For more information, please contact the President, Col (ret.) Carl L. Peterson, 6841 Beach Road, Warrenton, VA, 20187, Tel. 540-347-2371; Fax 540-347-3771; email petersoncarl12@aol.com, or John F. Sherman, 3rd V.P.-Communications, 11016 Ardwick Drive, Rockville, MD 20852-3204. Tel 301-881-5262; Fax 301-881-6029; email johnfsherman@msn.com

Assistance will also be provided, if necessary and when requested, by the co-webmasters of the 89th Website, particularly concerning the treatment and exchange of stories and information.

Editor's Notes

Both Mark and Raymond Kitchell would like to wish the entire 89th Infantry Division family a happy holidays and wonderful New Years. We very much hope to see you in 2004 at the Washington, DC reunion.

We appreciate the increasing number of emails and requests for information being received from veterans, family members and friends of 89th. When appropriate, we copy them to the concerned Society Officers, particularly to Organization Representatives (ORs), and are pleased that there are now appointees and volunteers covering all major 89th units, including those ORs without access to email and the assistants who can use the internet.

We are now publishing our Newsletter once every other month to reduce our workload which is climbing. However, emergency notices, etc., can be handled upon request If time is a vital factor. We also try to minimize this scheduling problem and the need for your surfing the net by sending out a joint message, using our excel email list, when it actually goes on line.

Please also recall, that in the unfortunate event of an 89th vet's incapacitation or demise, a relative or friend may wish to continue receipt of the TRW and our newsletters by informing us of the name and unit of the incapacitated/deceased, your name, relationship, and email address.

The purpose of this core section of the newsletter is to provide an electronic mechanism for the rapid exchange of information and requests regarding our WWII Division, its veterans, relatives and friends, as well as including current items of related interest. We like to think of this task as primarily gatekeeping and networking, i.e., facilitating networking between our vets and friends and responding to inquiries by drawing on the knowledge of those still with us, particularly those active in our Society with similar responsibilities and concerns. This is graphically illustrated in this and recent issues. Because of the many messages and follow-ups received, and my difficulty at times to keep them straight, it is requested that each message include any previous information/correspondence provided on the subject.

Letters are not usually included in any order of receipt or importance, with editing kept to a minimum. Editor's remarks, if any, are included in highlighted brackets [ ].

The following letter is now sent to anyone requesting information about a relative. We are getting at least 10 such requests per month from the website!

Dear Sir/Madame/Youngster:

Your co-webmasters are pleased when we can answer your questions directly or, more likely, refer you to a source. A principal rationale for the newsletter is to help relatives, friends, and other legitimate parties connect. If you peruse our website ay www.89infdivww2.org you will find an archive of previous newsletters.

The problem is I am getting older and my son is employed full-time. The volume of requests is increasing which, of course, pleases us all. It would help us very much however if, when emailing us, you include the following information when possible.

- The veterans full name and 89th unit, e.g., regiment, company.
- Any previous exchanges with us on the subject.
- Whether the vet is still with us. If not, do you wish us to keep his name on our email list, marked "deceased", in care of your email address?
- Any other relevant background.

Thank you.

Co-webmasters



Return to top



Website Developments

Currently we are giving priority attention to reproducing "The Combat History of 354th Inf. Regiment" and providing what assistance we can to Representatives of the 353rd Inf in their negotiations for accelerating completion, raising additional funds if necessary, for publication, and, insofar as the WWII portion is concerned, with it placement on our website and, hopefully, serialization in the TRW. We are currently in the process of finalizing a story/history of the 602nd TD Bn when they were attached to the 89th. Efforts are also underway to encourage and assist the 355th Inf to develop its own history and to assist the 89th Recon in preparing their history. Other attached division units, as well as histories at unit levels, are also encouraged to

participate. Finally, if you have buddies, relatives or friends who do not have access to the internet, you might wish to suggest that they visit their local library. Librarians will help you pull up our website at www.89infww2.org for viewing and, upon request, print out selected items/stories. Try it! Thank you

We have some exciting website plans for 2004. With the great help of Bob Samuels, we now have a complete (as compelete as exists) list of the members of the 89th Infantry Division during WWII (list taken from the official divisional history). We plan to put this list on the website. In concert with this list, we are also planning to add a search function to the website. With this function, website users can search for any mention of their relative on the website, including within the personal stories, combat history and unit histories.

We also hope to add a message board in early 2004. I would like to wish you happy holidays and hope to see you at the reunion in my home town, Washington, DC.

Mark


Recently I had the pleasesure of attending a book signing at the Alliance Francasise in Washington, DC. The author was Bernard L. Leprince and the book is titled The Making of a Patriot 1926-1945 which is an account of Mr. Leprince's experiences as a young man in occupied France. I highly recommend this book. It can be purchases at Amazon.com (The Making of a Patriot 1926-1945)


Return to top



Email List Updates

[An Invitation from the Society]

"Membership in the 89th Division Society W.W.II"

The Society welcomes requests for membership in the organization, with eligibility based on the following categories:

MEMBER - any veteran who served in the Division during World War II, including individuals belonging to other organizations attached to the Division at various times.

ASSOCIATE MEMBER - widows of deceased veterans who were members or are eligible to be members.

FRIENDS - individuals (including relatives) with a definite interest in membership and the history or legacy of the Division. Friends do not have voting privileges.

[Dues for each of the above categories are $30.00 per year, which includes a subscription to the Society's official publication, The Rolling W, published three times yearly. Those interested may enroll by sending a check for current dues, made payable to the 89th Division Society WW II, and mailed to the Asst. Secretary/Treasurer, Mrs. Marge Berg, 818 San Antonio Place, Colorado Springs, CO 80906. Please note your relationship to a member (if any) or a brief description of your interest. Be certain to include your mailing address, telephone number and email address to expedite networking, timely receipt of the TRW, and the Society's Roster, published biannually. . You are also invited to use the 89th electronic tools, the website and newsletter, available at www.89infdivww2.org, without charge.] WELCOME!]

It would greatly simplify our tasks if I were notified promptly of address changes, errors or when one is no longer using the Internet so we can make the necessary adjustments effectively and in a timely basis. The task of maintaining a current and growing up-to-date list is becoming increasingly complicated. We're not complaining, in fact we are overjoyed, but please remember that we are volunteers and, in my case, not as sharp as I used to be. If you are sending a message or follow-up, please identify yourself and your (or relative's) unit, as I may no longer have your original. Thank you.

The following are ONLY updats to the email list. The complete list can be found at Complete Email List

AHO, Jeff Co, 354th Inf
majeaho@earthlink.net

ALLISON, William E. C Co, 353rd Inf c/o grandson, Douglas
DJADC9@aol.com

ALLISON, William E Co, 353rdInf c/o grandson Douglas
DJADC9@aol.com

ANDERSEN, Robert-HQ Btry, Div Arty
RandRnewulm@tel.net

ANDREWS, Del-714th ORD
bydasea@cox.net

ATKINS, Carthell,- I Co 354th Inf
Jcatk48@aol.com

BASO, Elido-C Co, 314th Eng c/o granddaughter
sammy82068@verizon.net

BELL, Lindel Samuel-353rdInf (Deceased) c/o grandson
miked@altamont.net

BENESCH, Charles-CCo,1stBn,354th Inf c/o son, Bryan
bbenesch@ieee.org

BERG, Larry-HQ, 354thInf (deceased) c/o son Patrick
berg.patrick@attbi.com

BLUE, Harry H-Col, 355th Inf c/o Granddaughter Deb Blue
bluedeb5@q1.net

BLOSS, Robert F-Co B, 354th c/o son Bob
BobBloss@aol.com

BOYD, Cecil-I Co, 354th Inf
Flyfisher@mfire.com

BRANDELL, Sol-HqCo,2nd Bn, 355th Inf
srbrandell@aol.com

BUNNER, Vance N-I Co, 353rd Inf(deceased) c/o son Gary
gbunner@acheivementtech.com

CAMPBELL, Wille B-HQ,1st Bn, 355th Inf (deceased) c/o grandson
georgiacrackers@earthlink.net

CAGNEY, Richard--B-340thFA,(deceased) c/o Charles Beechnut
Cwbeechnut@aol.com

CAMPBELL, WILLE--B-Hq, 1stBn, 355th Inf (deceased) c/o grandson Marcus Pearson
georgiacrackers@earthlink.net

CAPEHART,Charles-CannonCo,354th Inf
CRC32806@mindspring.com

CARNELL, Darrel-BBtry,340thFA [ASTP-OSC]
dcarnell@cfl.rr.com

CLARK, Bill-G Co, 355th Inf[ASTPR-Alfred]
clarkart2@juno,com

CLEARY,RobertO-89thRCN,2nd Platoon
MarCleary@aol.com

COLOSIMO Dick-B Btry, 340th FA[ASTP-OSC]
candrcolosimo@cox.net

COPPOCK, Benjamin-F Co. 353rd Inf (deceased) c/o son, Larry
lcoppock@gcumm.org

DREVDAHL, Robert-HQCo,1stBn,354th Inf (Deceased)c/o son, John
jdrevdah1@hotmail.com

DUNLAP(Larry)-F Co,353rd Inf
dunflap@icdus.com

DUNN, Wallace E.-L Co, 353rd Inf
WallyLois@web.tv

EXEL, John E-Co E,2ndBn, 353rd Inf (deceased) c/o son
pexel@adelphia.net

FOWLER, Charles E-89thCavReconTroop
luluchuck@insightbb.com

FRANK, Gerry - Hq, Div Arty
gerry@teleport.com

FUSON, Donald-SvBattery,563rdFA c/o daughter Donna Deege
ddeege@hotmail.com

GAULT, Fred-Hq, 91
Joflug@earthlink.net

GESIN,Jack-CnCo,353rdInf
jackges@att.net

GILROY, Frank-D-89th Recon
gamfinch@ao.com
GLENCHUR, Harry-HqCo,2ndBn
hglenchur@aol.com

GOODBOUT, Edward--A-3rdBn 353rd Inf (deceased) c/o daughter Kathy
goodbouk@dom.edu

GRIFFEN, Louie-Co C, 355th Inf (deceased)c/o son, Dennis
grifkid124@msm.com

GRIFFITH Jr. Albert R-M Co. 353rdInf (deceased) c/o Rob Ziegler, son-in-law
Rzeig47821@aol.com

HALL Jr, Harmon C-Co 354th c/o son, Clinton
clintonhal@msn.com

HALLOCHAK, Andrew-314thEngBn c/o Drew Hallochak (son)
AJHallochak@aol.com

HAMPTON, James W-Co H, 354thInf(deceased) c/o daughter Cheryl Rose
randcrose@msn.com

HANCOCK, David P-CoG,355thInf
108910897766@ameritech.net

HARRISON, C.W.-CoL,353rd Inf
cwbeachnut@aol.com

HERBALY, Elmer-Co I, 354th Inf
Herbaly@aol.com

HEBERT, John-F Co, 353rdInf c/o daughter in-law-Laura
mymalibu1969@aol.cpm

HELMS, Howard F-Co I, 3rdBn 354thInf
gunnerbuck@netzero.com

HEMMINGER, William N-354thInf c/o grandson, John Beal
johnbeal2macmail.com

HIGGINS,JackH-GCo, 353rdInf
jackbettehigins@aol.com

HOFFMAN, Frederick 354thInf(deceased) c/o granddaughter Nora Graves
nora_graves@hotmail.com

JOHNSON, Donald E-CnCo,354th Inf c/o Mary Johnson, (widow)
MaryJ@mailbug.com

KALUGIN, Lloyd-K Co, 353rd Inf
elkal@nerc.com

KEMP,Lyle E-BCo,353rdInf(deceased) c/o grandson, David
kempd@ohsu.edu

KEYSER,HenryG-89th Inf Band,MP,Military Govt
dcnhenry@mail.com

LEISEROFF,Eric-ECo,353rdInf
Ecl1@optonline.net

LITTLE,GeorgeS-941stFA(deceased) c/o son Douglas
kthomas02@earthlink.net

LITTLE,RayD.-MCo,355th Inf
ray.david.1@worldnet.att.net

MARKOV,George-LCo,355th(Deceased)
c/o son, Mike
mgmsptscrds@acnic.net

MEYERS,Eugene (No Unit) c/o Roger Meyers
RMeyers@lcmha.org

MILLER,WilliamH-ICo,353rdInf (Deceased) c/o son, Phil
raifmill@yahoo.com

MOCK.Albert-CCo,353rdInf
earklyslickalbert@hotmail.com

NEIL,JW-AT,355thInf
jneil@semo.net

NICHOLSON,HaroldE-405thQmCo(deceased) c/o grandson
zepheadpat@aol.com

NORTHCRAFT,MiltonL-BCo,353rd Inf (deceased) c/o Margaret (daughter)
loveslight@socket.net

OOT, Earl L. F Co,353rd Inf
c/o son Tim
timoot@aol.com

PALMER,RobertEmerson-MCo,353rd Inf (Deceased) c/o Vanessa Gradall (great niece)
gradall@mindspring.com

PAUMIER,GeraldB,CBtry,341s FA
gpbmap@webtv.net

PEARSON,WillieBenjaminCampbell
mbpearso@hotmail.com

PENNEKAMP,Bill-89thSigCo
wbp@earthlink.net

PETERSJR,OrbanW-BBtry,914th
Ampetejr@aol.com

PETERSON,Carl-FCo,353rdInf
PetersonCarl2@aol.com

RANDOLPH,WilliamD-ACo,354thInf
randzipp@dc.rr.com

ROWE,RogerJ-Med,354thInf
Ravener89@aol.com

SARGENT,ShirleyRae-BtryB,340thFABn(deceased) c/o Bethany Rae, daughter
beppy@midmaine.com

SCHAFFER,FrancisR-CnCo,353rdInf(deceased) c/o relative, Sgt, Garcia
Kugarcias@aol.com

SCHUETZ,William-CoC,353rdInf
billyschuetz@msn.com

SENKAR,Robert-1stPlatoon,ACo,355th Inf
Englmary73@aol.com

SHAFFER,FrancisR-CnCo,353rdInf(deceased) c/o Sgt Kugarcias
kugarias@aol.com

SHAFFER,FrancisR-CnCo,353rd Inf (deceased) c/o Sgt Kugarcias
kugarias@aol.com

SHOREY,CliffordN-CCo,314thEngBn(deceased) c/o son John
jshorey@earthlink.net

SITZLER,John-CnCo,354thInf
a20gauge@comcast.net

STOREZ,Ernst-HgBtry,340thFA (deceased)c/o sister Eileen
estorzer@dotnet.com

STOREZ,Ernst-HgBtry,340thFA(deceased) c/o sister Eileen
estorzer@dotnet.com

STROLLO,CarmanP-KCo,355thInf c/o Mike Moran, son-in-law
mike.moran@tbe.com

STUEWE,??-CoF,353rdInf
conlyn@aol.com

TAYLOR,HaroldV-GCo,353rdInf
W7HVT@aol.com

TENNANT,Ralph--Hq1,355thInf
rt10ant@aol.com

WALDNER,LeonardF--CannonCo,353rdInf
ltwaldner@hotmail.com

WANSBROUGH,Robert-HqCo,3rdBn,353rdInf(Deceased) c/o son Greg
grw1482@swbell.net

WELLS,RichardN-2ndBn,FCo,354thInf
lucybell8@juno.com

WEISS,Murray-CoF.,353rdInf
ethmur@earthlink.net

WELLS, Richard N-Co F, 2nd Bn, 353th Inf
Lucybell88@juno.com

YENTES,WallaceH-BCo,354thInf
wallaceyents@cs.com

YOUNG,CharlesP-HqCo,3rdBn,353rd
Cylu77@aol.com

YOUNG,PaulC-CnCo,353rdInf
pcyinaz@juno.com

ZANG, Robert - Cn Co, 354th Inf
rzang@attglobal.net



Return to top



Taps

Richard B. [Dick] Cagney

Dick died of natural causes on Oct. 20, 2003 in Houston, Texas. Dick was born in Evanston, IL on Sept. 21, 1919, and was married to Katherine Schafli, who survives him, in 1943. Dick attended Armour Institute of Technology in Chicago and completed his education at Texas A&M after WWII.

During the war he was a Capt. in the 340th Field Artillery Battalion, 89th Infantry Division. He was decorated with a Bronze Star for standing in the open while under fire and directing artillery to destroy a machine gun emplacement that was sinking pontoon boats carrying fully-laden U.S. soldiers attempting to cross the Rhine River in Germany.

Although an electrical engineer, Dick practiced mechanical engineering throughout his career; first with Phillips Petroleum in Bartlesville,OK. and Old Ocean, TX . Then with Fluor Corporation in Houston, TX from which he retired as a Project Manager in 1982. At Fluor, he designed and constructed oil refineries and petrochemical plants throughout the world.

In addition to his wife, Dick is survived by his children, Rick Cagney and wife, Marva Gay; Mike Cagney and his wife, Margo; David Cagney and his fiancé, Lisa Majers; grandchildren, Miles Cagney and wife, Janine; Travis Cagney and wife, Heather; and six great-grandchildren. Visitation was on October 24 at Levy Funeral Directors, Bellaire, TX., and he was buried on October 25 at San Geronimo Cemetery, Seguin, TX.

David Dunn

My father recently passed away 10/15/03 from complications from an operation in Atlanta. He told me many wonderful stories about WWII and will always treasure them.

He always talked about his buddies and friends he met along the way in the 89th. He will be deeply missed.

Take care and Happy Thanksgiving!

His daughter,
Cathy Dunn
david-dunn@webtv.net

Carmen P. Strollo

Dear Sir:

I regret to report the death of SGT Carmen P. Strollo on 25 September 2003 in Huntsville, AL.

He is survived by his two daughters, Mary Jo Moran of Huntsville, AL and Jean Wolczanski of Fort Lauderdale, FL , his son, Carmen P. (Chip) Strollo, Jr. of Coral Springs, FL, , ten grandchildren, and ten great grandchildren. His wife, Louise Melone Strollo passed away on March 18, 2002.

A funeral mass was celebrated at Holy Trinity Catholic Church in Long Branch, NJ on 17 October 2003.

Please pass tis information to members of the 355 th Infantry.

Respectfully,

Michael J. Moran
LTC USA (Retired)
Son-in-Law
Michael.J.Moran3@boeing.com

Sgt. Herman Max Caldwell, G Company, 353rd Infantry

Sir:

I am Sgt. Caldwell's son. Just a note to advise you he passed away peacefully Thursday afternoon (Thanksgiving Day) here in Fort Worth. Don't know if you keep up with things like this, but just FYI.

DONN M. CALDWELL
4709 CARLYLE DRIVE
FORT WORTH, TEXAS 76132-2507

A little more info.... after WW2 he founght in the Korean War, he was involved with the Texas National Guard, and was a ROTC instructor here in Fort Worth for ten years prior to his retirement in 1965. Total service was 27 years. He was in the 2nd Division prior to WW2 and before being assigned to the 89th. Also he was awarded the Bronze Star.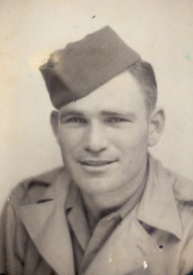 Sgt. Herman Max Caldwell

Return to top



Letters and Exchanges

Did you know James Duff?

My grandfather is James Duff. He told me that he was in the 89th Infantry of the 3rd Army. He would really like to hear from somebody who he served with. He has searched for a man named Wright that he served with pretty much since he returned from the war. The man was from around the Oklahoma area which could mean Missouri, Kansas, or Arkansas too. My grandfather is not in very good physical health and it would really mean a lot to him to find a buddy that he served with. Any help would be appreciated. Below is a copy of my grandfather and others during WWII. Please email me at HRLYRBL@ aol.com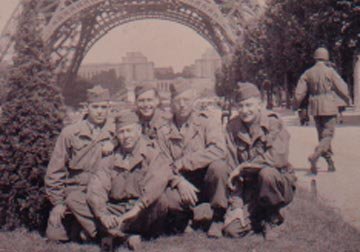 James Duff if the one on the far right. I think one of the others was possibly a man named Wright. If you have any information on any of the men in this picture please email me HRLYRBL@aol.com Sharon Reeves


Getting acquainted Again From Charles Harrison, 353rd Inf., 3rd Bn, Co L: Cwbeechnut@aol.com

Hi Ray, I am very pleased with the 89th website. Having fun cruising the newsletters. While doing so, ran across the article about the band. You see, for awhile, at the tail end of the war in the ETO, I was detached from L Co to temporary Mil. Government detachment II. This was made up of about 12 band members, Myron Hilding [1st Lt.] & myself. Any info on this good group---how about Myron Hilding? If you will be so kind to tell me how to do this research, will be glad to do so. Sent check to Mrs. Berg. Charles. Glad you are pleased. That's what we do it for. Scotty Kitchell

[From Ray] Contact Henry Keyser at dcnhenry@mail.com

HI Ray,

Thanks for your e-mail. Appreciate hearing from you. All these years past I wasn't aware of such things as reunions until last summer when I visited with a wartime buddy [went thru OCS --Ft. Benning-- with him and on graduation I went to the 89th & he joined the 71st Div.]. Well, he showed me how to use the computer to see if the 89th even had reunions----sure enough the 89th did have reunions. We down loaded the 89th--August 2002 newsletter. In same there was an article by Wally Dunn---our Ex Officer, Co L, 353 rd Reg't., 89th Inf. Div. I was 2nd platoon leader. What a surprise for me. Now, after all these years, Wally & I stay in touch by e-mail. I sure have missed out by not knowing about our reunions!

Next year I would like to make at least one reunion---there may be some one left that I know. So, if you would be so kind as to send me the particulars--where, when, & what I will be much obliged. Please advise if there any financial signing up charges required on my part.

I had two e-mail addresses to write to this day, and from Mark's reply I do believe he might be your son. So am sending a copy of this letter to him. Now days I take the short cuts. Mark, I thank you too for your kind reply. Best wishes to you both, Charles

5422 Beechnut
Houston, TX 77096


Uncle John W. Baxter, 355th Inf

From Steven Baxter: sbaxter@shrinenet.org

Dear Sir,

My name is Steven Baxter and my uncle is John W. Baxter who served as a PFC in the 89th Infantry Division. He landed in LeHarve, France in Jan. 1945. While my uncle is still living, he has rarely spoken of his experiences during his time of service.

My son, (his great nephew) is preparing a middle school project in honor of Veteran's Day, in which if there is a family member who is a veteran the student is to create a poster detailing their service. My uncle has graciously offered some basic information such as date of service, served in Europe, and such. According to my aunt this is all he would say or has ever said concerning his time overseas, and of course I will respect that.

My request is that is it possible that you would know what individual unit he served in or can steer me to a source that would have that information?

Thanks
Steven Baxter

[Reply From Ray]

Dear Steve: Your uncle, J. W. Baxter, served as a PFC in K Co, 355th Inf. and from your email I assume he is still living. That leads me to some questions and suggestions beyond your request.

First, I assume Mr. Baxter is alive and kicking to the extent any of us can in his age range. I am sure his memory of the war is still with him and I'd like to address that first. There has been in existence for many, many years the Society of the 89th Inf. Div. The highlights of its activities are biannual reunions; the next is in August in Washington, DC and will be quite an event. It also publishes an official magazine The Rolling W (three times a year) and provides other services. Membership is $30 annually which includes the TRW. I will be happy to send you an invitation if you wish.

Separate, but in close association, is the 89th Website which contains much of our personal history in stories, photos, etc., and a bi-monthly Newsletter, primarily of exchanges with vets and other interested parties. This is available without charge and can be seen on www.89infdivww2.org.

Next, we maintain an email list to facilitate exchanges within and to outside sources. I would like to add Mr. Baxter's name, unit and email address on it or in care of someone else if he doesn't use a computer. I am attaching the latest update to give you a look. All of this can be of help in assisting your son with his Veteran's Day plans and bring you all into the 89th family and its friends. Please let me know what we can do.

PFC Raymond (Scotty) Kitchell Co-Webmaster

Searching For Information on Eugene (William) Meyers From William Roger Meyers sbaxter@shrinenet.org

Dear Sir -- My name is William Roger Myers. My father, Eugene (NMI) Myers, #36 631 815, served in WW II. My records indicate that he was active 1/6/43 from Illinois, a member of the Infantry. I have in my possession several patches, pins and medals including an Army of Occupation, Germany medal and an 89th Infantry patch. Records also indicate that my father was honorably discharged 11/45 at Camp Phillip Morris, France. Signature on his discharge was Lawrence Smith, Col., Cavalry Comdg, 14th Cav Group. He re-enlisted on the same date and was discharged again on 8/46 as Sgt., 69th Amphibious Tractor Bn.

I recall my father mentioning crossing the Rhine and something about a German concentration camp. However, I have very little detailed information beyond that. I am trying to piece his military history together.

I stumbled across your website in my search. Is there a master list of soldiers who served in the 89th Division, where and when they served? Can you provide any additional information or point me to other areas where I can continue my search? Thanks very much.

[From Ray]:

Dear Eugene:

I went through my 89th Division book and saw no mention of your Father's name-but that happens often. The book is far from complete. Don't you have any indication of the unit he served it, e.g., regiment, company? Don't give up.

Ray Kitchell

[From William]

Raymond -- Thanks for getting back to me. Unfortunately, my father passed away in 1982. All the information I have I put in my email....HOWEVER, his correct name for military purpose was William Myers...he was one of those young rascals that enlisted at age 17....did not use his given name of Eugene! The only evidence that I have that he was attached to the 89th is the shoulder patch that was in his military papers. Thanks again for trying to help....if I come across any additional info, I will send it along. Meanwhile, I will wait.....Roger


Identification of an Old Picture: From Michelle Elliott: Michelle.Elliott@mo.ngb.army.mil

Sir,

I don't know if you have identified the soldiers in the picture on your website, but I believe the gentleman 2nd on the left is my grandfather, Thomas Dunn, a LT who lost his leg during the war. If it is not him, I apologize. I am looking for information about him. He served in an infantry division during WW2 and stepped on a land mine. He is from IA and passed away in 1993. I am his granddaughter and am currently working full time for the AVCRAD in Springfield, MO upon returning from deployement in June from Kuwait. Any information would be helpful.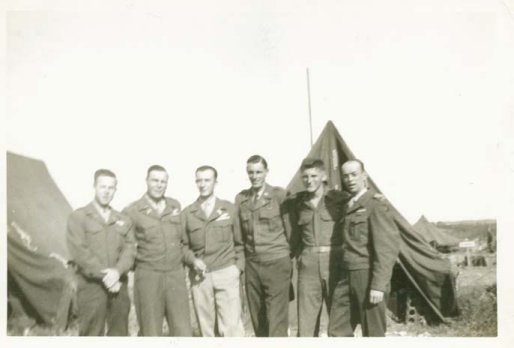 Message from Sgt. Patrick Brion From Patrick Brion: Mpatrickbrion@hotmail.com

[From Mark Kitchell] Here are some messages from Sgt. Brion of the Belgian Army. Patrick has become a good friend of the 89th Division and this website. He has tirelessly championed the 89th Division's assistance in liberating the slave labor underground factory at Reimahg. In fact, we are hoping to gain official 'liberator' status for the Division from the US Army.

Dear Mark,

I am sending you two pictures of a 89th Infantry soldier, which were given to me in Kahla last May.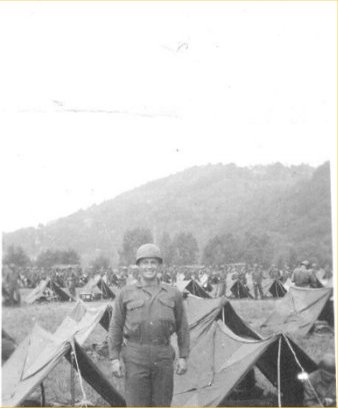 The name of the soldier is Ronald Edschison. The first picture is a bit difficult to say were it was taken but the second clearly shows were the camping area was. Left from the Saale river with the Dohlenstein hill behind him.

The story is that he was living in a German house for a while and got along very well with a German lady.

She still lives and gave us the two pictures. I am also sending a picture of her, that was drawn [photographed] by an Ukrainian forced labourer in 1945.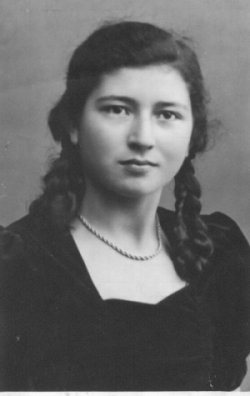 And last but not least, féliciations avec votre marriage!

Patrick

Also, Sgt. Brion (and the Belgian Army) would like to invite any 89th Veterans interested to the 60th anniversary of the liberation of Reimahg, which will take place in May 2004. If you are interested please contact Sgt. Brion at PatrickBrion@hotmail.com.

Questions on Espenscheid from Darrel Carnell (DCarnell@CFL.RR.COM) and Ed Quick (edqandmj@bellsouth.net)

From Darrel:

I don't remember hearing any nearby shellfire or rumors that day before we started receiving a heavy incoming barrage. I have a distinct recollection of starting to dig my hole and responding to Van Loton's joking request to make it big enough for both of us by telling him that he could always share my hole provided I got the bottom most position. As far as I was concerned, most all of those incoming rounds were pretty much on target and I sure as hell wasn't counting them in groups of four. Nor do I remember shells "walking up the draw."

As I remember it, we were on the reverse side of a hill with an entrance road to our left (west?) and an elongated gully or draw to our right (east?). The wooded area was to our rear (south?) and the 88's were to our north. I remember Linden Seamons had his switchboard set up a little to the right and behind me, while one of the howitzers was set up under a tarpaulin a considerable distance (50 to 100 feet) to my left and behind me. I think that my position was the closest to the incoming fire; in other words, I believe that the rest of the battery was closer to the wooded area than was I (and Polly and Van Loton).

I don't remember any 88's "walking up" that draw toward us. As the incoming fire drew steadily heavier, I do remember that Van Loton had me drive him to the far (east) end of the draw where he jumped out of the jeep and crawled to the ridge of the hill. Incoming fire had slacked off a bit and he called down to me to bring the jeep to the crest of the hill so he could "draw some fire." I had taken refuge underneath the jeep and called back for him to draw his own goddamn fire.

All this happened, I am positive, in broad daylight. I guess the incoming fire finally quit because I have a recollection of Lt. Wolbert taking data for a shelling report at a point 100 or so feet behind and to the left of my original hole. I cannot remember any incoming fire after sunset and I do remember that TOT (Tome On Target) .occurring well after dark. I remember thinking at the time that every gun in the ETO was in on that TOT; I could hear the distant guns going off, then a second rank firing and then a third. I think (but am not positive) that I could hear the sigh of the outgoing shells passing over us.

I never heard any report that our infantry had earlier occupied our position; indeed, I am sure that there was no sign of previous occupation because there were no holes we could take over and we had to dig our holes "from scratch." Nor do I remember any speculation about a German forward observer directing the 88's fire.I am in complete agreement with the last two paragraphs of your email. Having been silent for several hours, it is highly likely that the 88's had long since vacated their positions by the time we fired our TOT. And that being the case, why did we fire so many shells at a vacated position? Maybe the guys in Corps fire control needed some practice?

Dick, maybe you can add something to this that Ed and I have overlooked?

As one veteran to another, I salute you on this Veteran's Day!

Darrel

Ed Quick:

Darrel:

As we pulled into position near Espenschied on that fateful day, I remember hearing shellfire close by. Two rumors immediately circulated. One was that the position had been a staging area for our infantry, who had just pulled out and that the Krauts had the area zeroed in. The second rumor was that we had picked up a radio transmission from a German forward observer in the woods excitedly calling in a target of opportunity - us.

Dorigan reports in his log that the shells were going well over us at that time and landing far back in the woods behind us. For some reason the kitchen chose the front edge of those woods in which to set up their equipment. I guess we hadn't learned about tree bursts yet.

As we well know, the 88 fire became more accurate. Dick Colosimo says he watched a salvo of explosions walking up the draw toward our guns and that for some reason the fourth explosion, which would have been right on one of our howitzers, never occurred. I guess he was assuming that there was a battery of four 88's firing at us. That would be a good question to ask him. At one time, I heard the distant sound of a barrage go off three or four seconds before the shells arrived and my recollection is that six guns were firing. It's possible that they sometimes fired only three guns at a time. Now comes the main question. The last shells to arrive came in before dark. I'm sure of that. In fact, I think it was well before dark. Our T.O.T. Corps Artillery "shoot" happened, according to Dorigan, about midnight. He says that our barrage "forced them to withdraw." The 89th official history speaks of Corps Artillery "shoots" destroying a number of 88's. In any case, what happened to the Kraut guns during the five or six hours or more before the midnight T.O.T.? You would think that if they had finally gotten the range to their target (us) they would have fired for effect and really laid it onto us, wouldn't you? So - did their forward observer (if indeed there was one) close up his shop and get the hell out of there and not relay the fact that they had our range? And without an observer, did the 88 batteries retreat? Or did our infantry force them to retreat? Anyway, it seems to me that since they did not fire for five or six hours, they had pulled up stakes and were probably long gone. Why would they remain in that position if they weren't going to fire?

And so: What the hell were we firing our T.O.T. barrage at? Ed


I'M IN TOM BROKAW'S BOOK "THE GREATEST GENERATION" BUT HE DIDN'T MENTION ME BY NAME

By Gerry Stearns, H Co, 354th

[Thanks to our always reliable and excellent contributer Gerry Stearns-Mark]

Well, he named the heroes
And the heroic actions,
As he should've.
And with luck I hope
I'd have earned the mention
If I could've.

After all, I "fought" World War One
Before I was ten.
Who thought that in ten more years
I'd be at it again?

But, At sentry, "I walked my post
From flank to flank
And saluted every SOB
Above my rank."

And, on the firing range
I was not without flaws
But I never earned
My own Maggie's Drawers.

I used language
My mother never taught me;
I always knew the words
But she never caught me.

On those special inspections
We all dressed down
To boots, raincoats and nothing--
I felt like a clown.

Finally, I've been shot at
By those who never knew my name.
I guess I can be nameless
With all the others of "Greatest" fame.