Tour of Remembrance




Normandy

Then on to a major stop on the tour. The American Cemetery at Normandy. Enroute we visited a fantastic, multimedia museum featuring activities of D-Day. As we traveled through the countryside we could recall that in 1066 William had departed these shores to invade England and that in 1945 Eisenhower had reversed the process, a crusade in which we had a small part.

At the cemetery we unfurled our National Colors as well as our Division flag, both were the same ones we carried in those long gone days. We marched (route step) past memorials on to the path made famous in the film "Saving Private Ryan" and as we did many other visitors joined our procession. Cameras clicked, videos rolled as we approached the grave of one of our men buried there. The ceremony was short and solemn: The National Anthem; a reading of the names of our men buried there; a short prayer; placing of a floral piece; a few words by our president; and taps. Only a few, if any dry eyes. Some wander about the crosses, others to the lookout on the channel where one could see the difficulties our troops faced on that 6 June day.

Walking to our busses we passed an airborne division ceremony as well as a waiting floral piece with 89th Division letters.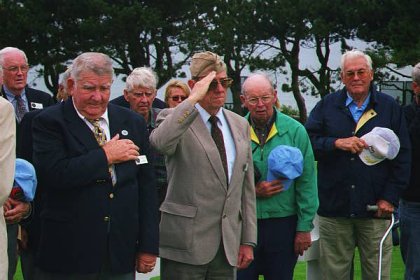 Saluting an 89th Comrade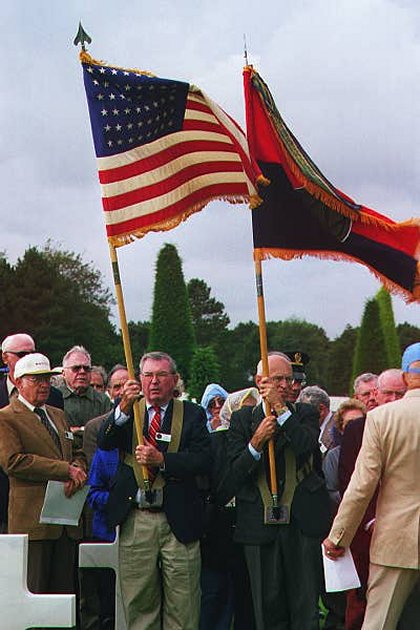 89th Honor Guard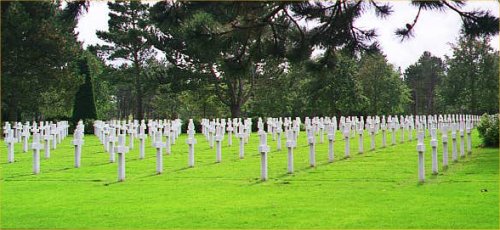 American Cemetary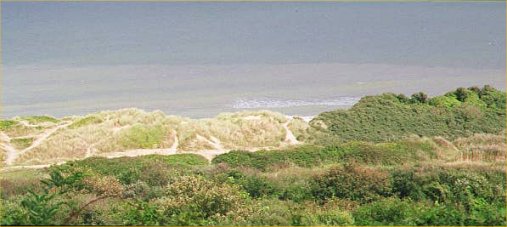 The Beaches






Previous | Next |